Cloner Element
The cloner is a useful tool that will automatically clone anything that is placed within it. The cloner is often used to create thumbnails of nodes within a tour. Draw a cloner over a single node image and it will add the rest of the node images as thumbnails.
Settings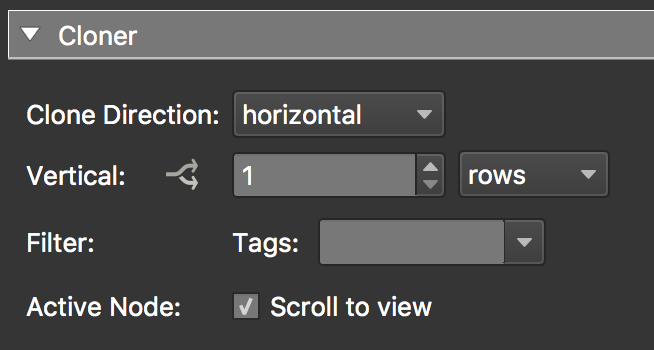 Clone Direction – Choose the direction in which the cloned elements will repeat. You can choose from horizontal or vertical.
Horizontal/Vertical – This setting will change depending on the clone direction chosen. If Horizontal is chosen, this will be Vertical, and vice versa. You can then set how the cloner will continue to repeat in that direction. Enter a value for the number of columns (or rows), or in case pixels or percentage is chosen, how much of the parent element should be used in that direction.
Filter – Here you can filter by tags for the cloner. Only nodes that have the chosen tags will be used in the cloner.
Tour Node – Select a node from the menu.
---
See also