What's New?
Here you'll find an ongoing list of new features added to each version of Pano2VR 6.
Pano2VR 6.0.6
Fixes
Fixed a crash when using the keyboard short to generate an output was used but no output was selected
Fixes
Google Maps weren't showing in the Tour Map for some and this was fixed
Fixed an issue where changing the image directory's name caused map pins to be not be found
An issue where the Map Element would be empty if a logic block was used to show the element on open was fixed
Fixed an issue with the scroll area not showing all nodes
The wrong start view was being used when a Fly-In effect was added after a transition with a custom Animation Fly-In. Fixed
Sometimes clicking a hotspot would open the wrong a node and this has been fixed
Spaces and hyphens no longer break logic blocks and cause a blank outputs
Fixed the issue with the horizontal type Cloner was not resizing correctly when size was set to percentage
Changed
Both the silhouette and simplex skins and components have been updated to include hiding and showing of tooltips
Pano2VR 6.0.4
Street View Browser
You can now search and filter in the Street View Browser to help find your projects. You can also sort the projects according to name or publish dates, etc.
Fixes
Pinned sounds pasted to a node were later tagged as missing files, this is now fixed
The vertical scrollbar in a scroll area will no longer turn into an non-interactive black line when its size is set to auto
After swapping floor plan images, the new image will be shown as expect when reopening the project
Fixed an issue with Firefox and Hotspot Proxy IDs
Pano2VR 6.0.3
Animation Editor
Added the ability to loop clips.
Fixes
Sound now plays on first touch/interaction in Chrome and on open in Firefox
8 and 16-bit TIFFs and cylindrical images now displaying correctly with HD Intel graphics cards
Map tiles now change according to the chosen Map Provider
Scroll Area's inner element is now being resized correctly
For some, the placeholder $(if) was displaying the wrong filepath, this is now fixed
Stereographic projection in the Transformation output will no longer revert to a tilt of -90º
Changes
You now get a warning to locate the FFmpeg executable if Pano2VR cannot find it
Move mode in Target Viewing Parameters now matches the Viewer's move mode
Made improvements to sound playback in some browsers
Improvements made to zooming in to the Canvas of the Skin Editor
Pano2VR 6.0.2
2018-12-19
Added the snow component found in the components toolbox
Added a seek bar component for video panoramas
Added a map pin component for use with the map element
Fixed: Pinned video now plays back in Chrome
Pano2VR 6.0.1
2018-11-28
This was a bugfix release that fixed the following:
Fixed an issue where iOS users' panoramas wouldn't spin properly if interacted with during a transition
Fixed an issue where map pins couldn't be selected when using a simple floor plan
Fixed an issue for some Windows users who would get a black frame in the Viewer when playing back video panoramas. Please download and intall the latest K-Lite Codec Pack.
Pano2VR 6.0
2018-11-20
6.0 announcement
6.0 beta 5 announcement
6.0 beta 4 announcement
6.0 beta 3 announcement
6.0 beta 2 announcement
6.0 beta announcement
Floor Plans
Floor plans can now be added to the Tour Map which can then be geolocated so nodes without GPS that are pinned to the floor plan will get location information.
The floor plans added here, can also be added to the Map element in the Skin Editor.
Custom Map Tiles
Custom Maps can also be added to the Tour Map. So, if you want to use tiles from another provider, you can apply this here. The custom map can also be applied to the skin.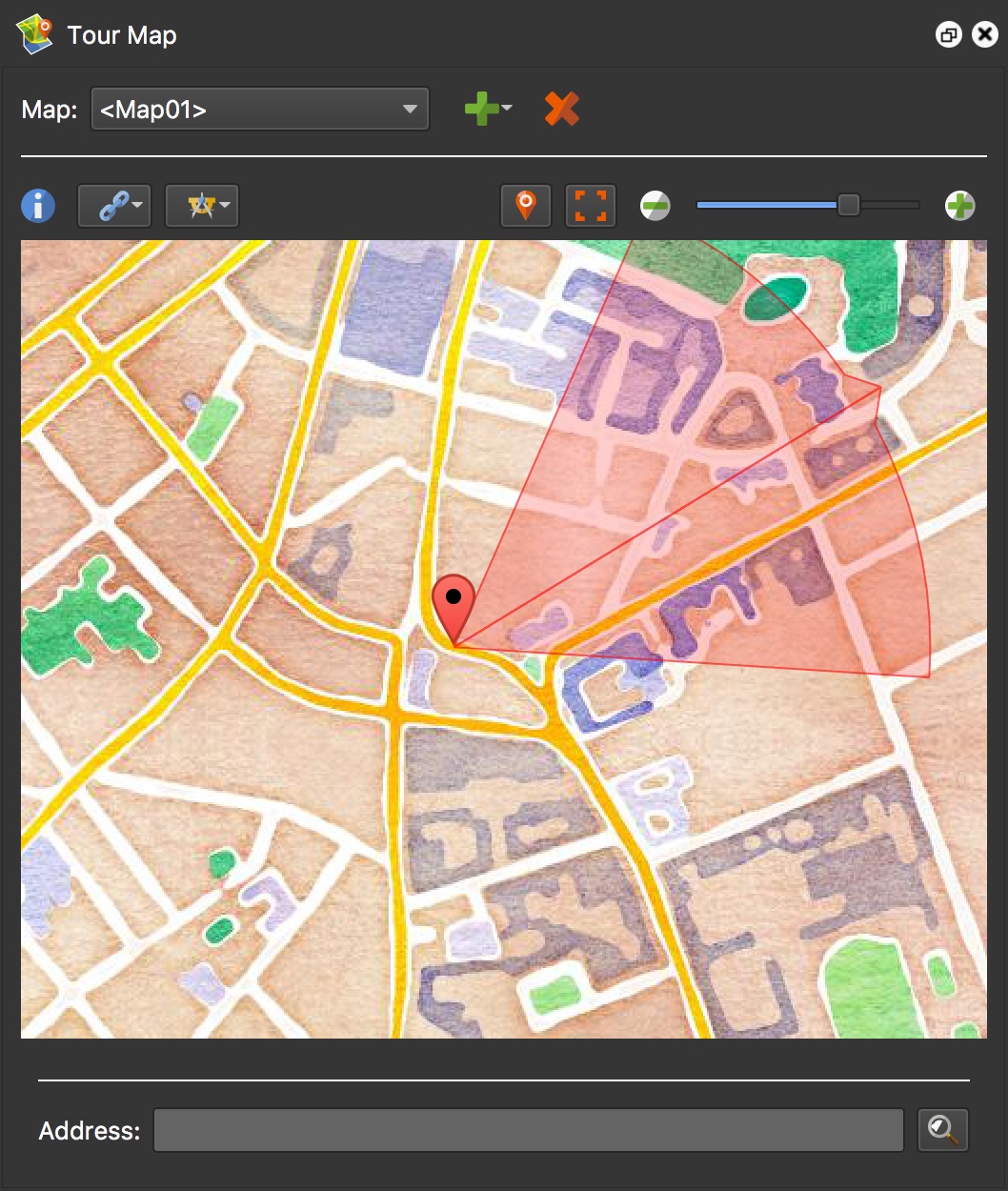 The maps element now supports custom maps and floor plans that have been added in the Tour Map.
Animation Editor
The Animation Editor is now a panel and uses the main Viewer for viewing the animation.
There is also a new track that can be added for controlling skin elements.
Sequences can now be created and outputted.
Skin Editor
There is now a way to change skins without having to open the Skin Editor. Use variables that will show in the Edit Skin Configuration in the HTML5 Output.
Positioning in the Skin Editor has been updated to better reflect how positioning works in HTML5.
New skin action source: Media Ended
Two new components have been added to the Components Toolbox:
Google Street View
Log in to multiple accounts

Pick Place ID for quickly adding POI to an image
360 Video in Viewer
The viewer now supports 360 video, making it easier to work with them in Pano2VR.
Other Features
Improved gigapixel support with tiled multi-resolution
Fast loading for tours with more than 10,000 nodes
Flash and QuickTime outputs no longer supported
Added a Quick Share button for quick exporting to social networks
You can now line up map pins with a selected node's radar beam. Press the Alt key while dragging an inactive pin.