If you follow our posts here, you may already know that a VR tour does not necessarily have to be a tour that moves from room to room. A tour can showcase items (like a gallery or museum), an interactive menu, and it can also be a game, to name a few options.
The project we're presenting today is not only a tour, but it's also a game built specifically for the geocaching community by Dieter Lukas.
Geocaching is an outdoor recreational activity in which participants use a GPS device or mobile device and other navigational techniques to hide and seek containers, called "geocaches" or "caches," at specific locations marked by coordinates all over the world.

Wikipedia.org
What makes this project unique is that the tour starts like any other VR tour. But as you move through the nodes and read and reveal clues, you eventually come to a tour node that officially begins the hunt for the cache.
A Game without Cookies
Also unique to this project is that it doesn't use any cookies. Instead, it's all based on logic and using logic blocks. If you don't answer several clues correctly, the game will end, and you'll have to start over. Answering clues correctly will open more clues, and the tour continues until, eventually, it leads you straight to the physical cache.
The tour is in German and English, and it'll be the first decision you make in the game.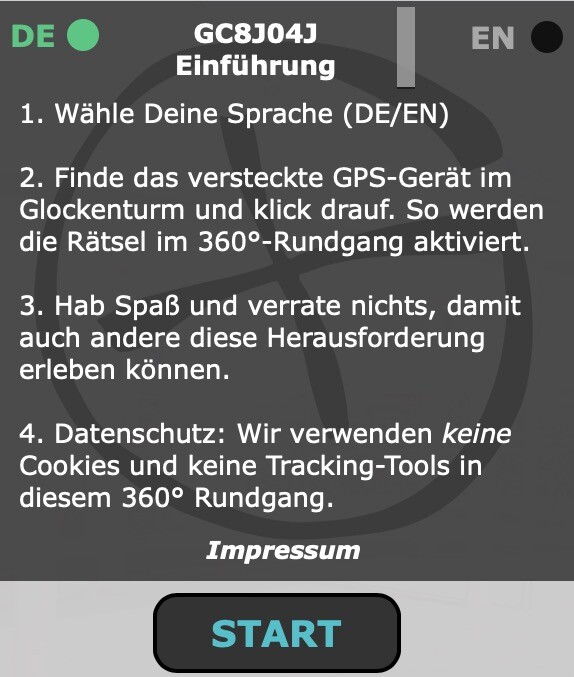 There are information hotspots in every node. You'll also find the use of 3D distorted hotspots, an embedded PDF, audio playback, polygon hotspots, and pinned images.
Loading…
For Dieter, there were a few goals in creating this project. The first was to show the geocaching community that "the 360° industry can do much more than just take beautiful pictures." The second was to create a game without using cookies to be accepted by the geocaching platforms. This comes with disadvantages, but the project worked without them.
The main objectives were:
to open the tour without the hidden hotspots
to activate the game and hence revealing the hidden hotspots after clicking a set hotspot (the "forgotten GPS device")
to show a hint for the geocache after each answer
the order of the hints is fixed but must be independent of the order of the solved questions
the points in the game should be reduced when questions are answered incorrectly
a way to set a minimum score so that the game ends automatically once it hits a threshold
add sounds and animations
That's an intense list! But they all got done. And all with out the use of cookies.
Behind the Scenes
Dieter was also kind to share more information about how he built the project:
16000 x 8000 panoramas
Nikon D810 with the Samyang 12mm fisheye lens
Stitched in PTGui Pro
Retouched in Photoshop
Dieter recorded the sound files during the time of shooting.
Also, below is a screenshot showing the project. Notice that one node is not connected. The only way to see this node is to answer clues correctly.
What might seem to be a simple tour at first glance, quickly reveals itself to be not just a game, but a treasure hunt. Building the game without cookies, or a way for the browser to remember user input, comes with disadvantages, but Dieter was able to successfully overcome them and gamify his tour using the tools provide in Pano2VR.
Find the Cache
Try to find the cache!
The cache is also listed at geocaching.com
Related Articles
Check out these game-related posts:
Webinar on variables and logic blocks leading to the building of a game
Webinar on Embedding Content in Pano2VR Projects
If you're wondering why Dieter's name sounds familiar to you, it could be because this is his second featured project here. His first post showed us how you can use 3D distorted hotspots to show restaurant menu items, plus a few other neat tricks.