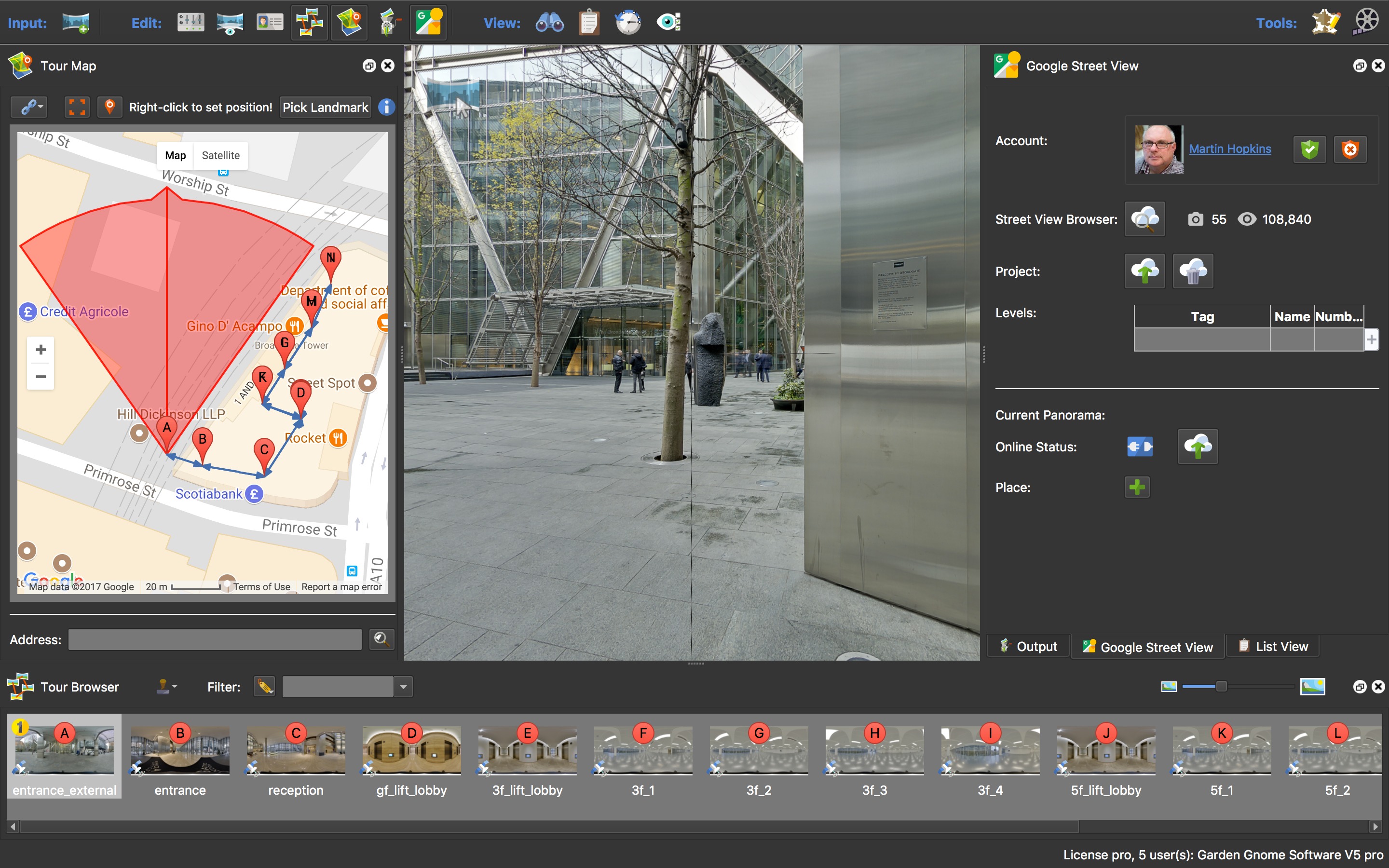 What's New in 5.2
Pano2VR 5.2 features a lot of changes to make it ready as a desktop publisher for Google Street View.
See a list of changes.
Google Street View Export
In April 2017, Google retired its desktop Street View editor and selected a few developers to take over the desktop publishing to Google Street View using their API. We were one of the selected few. In Pano2VR 5.2 we introduced the Google Street View Panel where you can upload panoramas and tours directly to Google Street View from within Pano2VR. Not only can you upload and download panoramas, but you can also browse panoramas and tours from directly within Pano2VR using the Street View Browser.
There is a new forum for discussing Google Street View.
Tour Map
You can now link panoramas together in the Tour Map and it will now display the linking between the panoramas. Also, there are labels on the location markers making it easier to identify the panoramas in the map with the ones in the Tour Browser. By default the labels feature is turned off. To turn it on, go to Pano2VR Preferences or Settings → Advanced → Show map labels in tour browser and map.
The Tour Map now reflects the filtering done in the Tour Browser.
Setting North
Setting North is now easier. Set North by pressing N and dragging the panorama to achieve the correct heading. If you have connected hotspots in Pano2VR Pro, you will see a thumbnail of that panorama to help guide placement.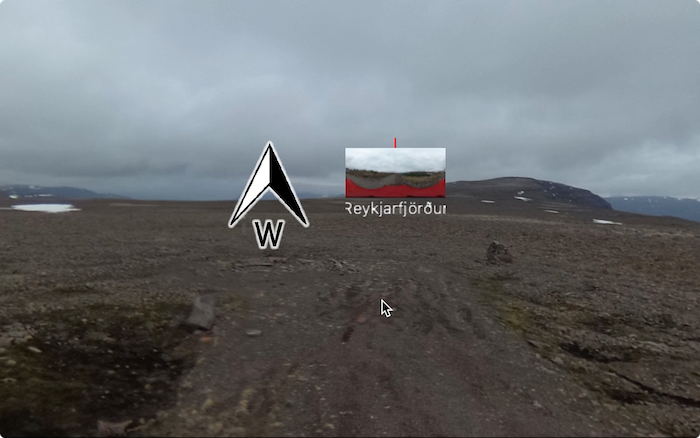 Hotspots
In the Hotspot Properties panel, there is a new option called, Auto Place. When this is selected, the hotspot is automatically positioned in the correct location of the linked panorama. The hotspots will also use placeholders for the image's Title. This way, if the image's title changes, all linked hotspots to that image will have the title changed accordingly (rather than having to manually change each hotspots title).

Patches
Patches can now be used to blur faces and license plates. This is especially helpful for those uploading to Google Street View. There is also a new nadir patch called Blurred Cover.
If you have a large tour and will be using the same patch or the nadir is always in the same location, you can make use of extracting a patch in the Master Node. This allows a patch to be extracted from the same area across all tour nodes. Then, if needed, each patch can be batch processed.
More Features
There is a new keyboard shortcut in the Skin Editor for quickly generating an output.
Mac: Option-Command-G. Windows: Alt-Control-G

There are two new zoom options for the Skin Editor's Canvas. Zoom to Fit and Zoom 100%

There is a setting to limit the image size when uploading to Google Street View. This means images don't have to be resized before bringing them in to Pano2VR. The current suggested upload size to Google Street View is 12000x6000.

Hit Z on the keyboard to spin the panorama 180º.

Copy North to all nodes in the User Data panel.

Set transitions in the skin for more control over transitions.

Remove All Links option added to the Tour menu and Tour Map for quickly clear all linking.
Download
Download the latest version.
Documentation
If you ever get lost and/or curious, you can also check out the documentation. You'll also find the documentation within Pano2VR by going to the Help menu and choosing Help.
We also suggest subscribing to our YouTube and/or Vimeo channels.