We're happy to announce this release of Pano2VR 7 beta 5 because we not only added a few more features and fixed numerous issues, but we are also introducing a brand new product: Gnome Cloud Hosting!
Gnome Cloud Hosting
This has been a long time in the making, and we're really happy to finally release it today! In beta 5, you'll find two new buttons. One is in the Web Output called Upload to Cloud. The other is called Cloud Browser.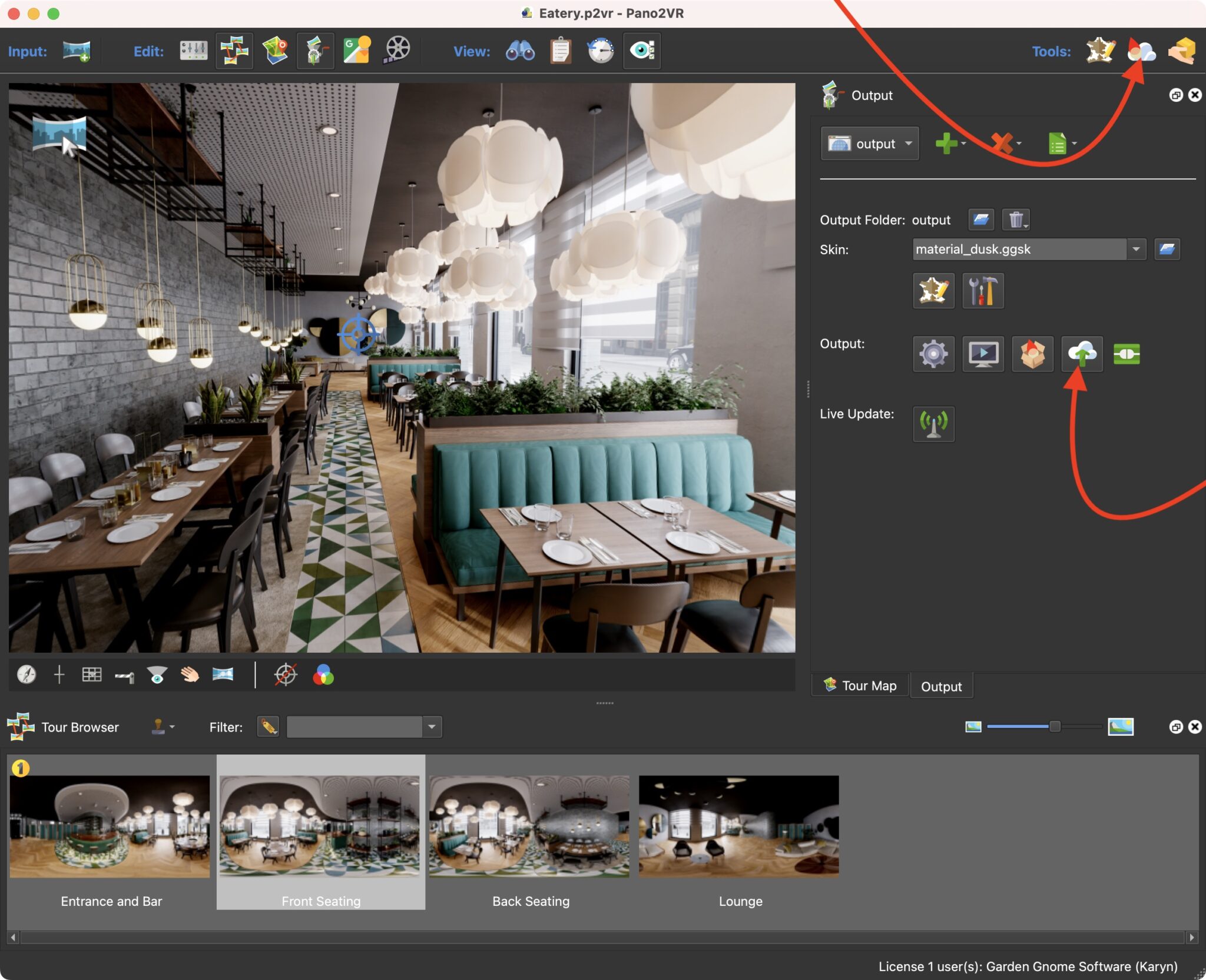 The upload button, you may have guessed, uploads your tour to the cloud. The Cloud Browser is where you can view and share all your uploaded projects.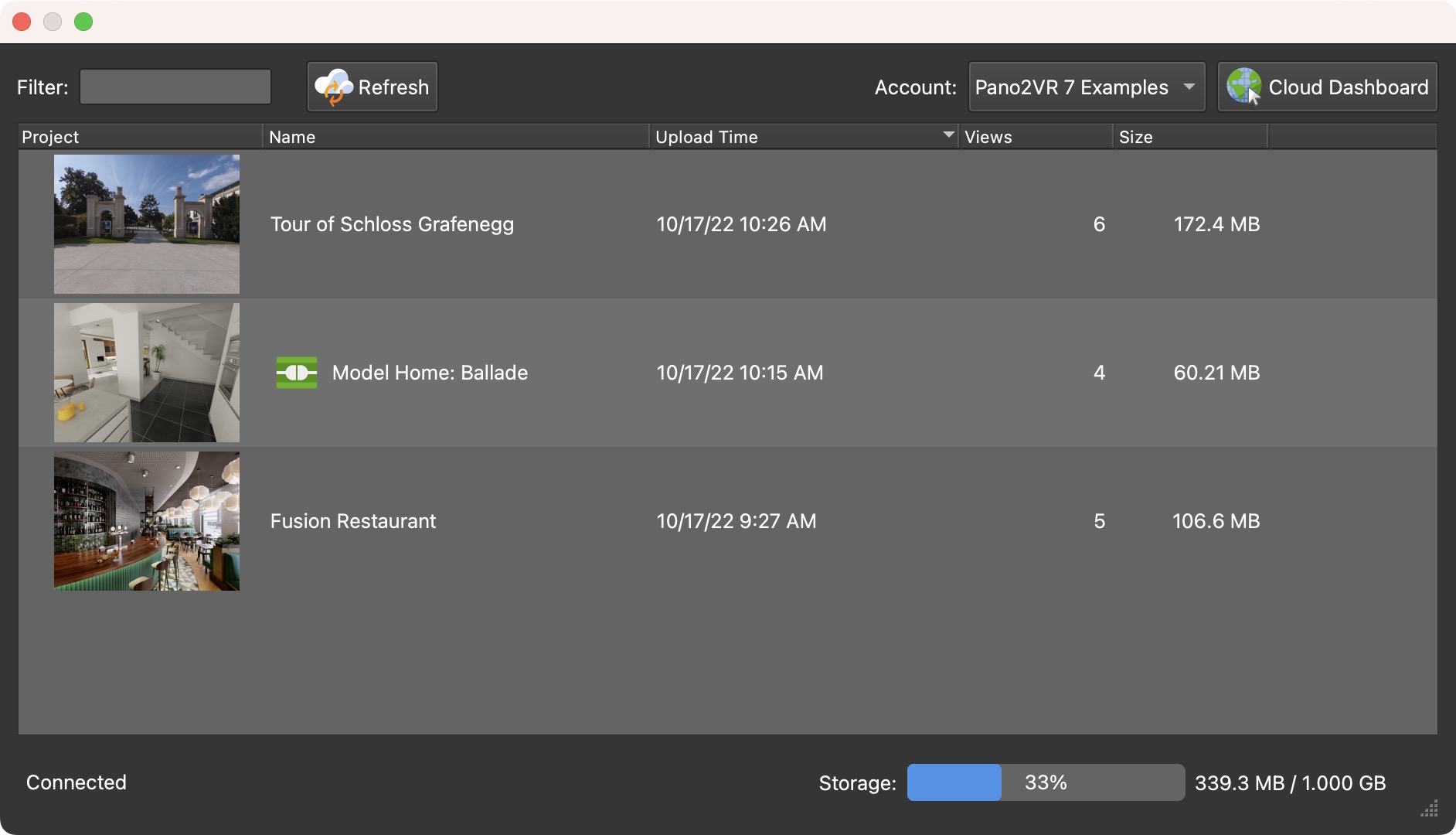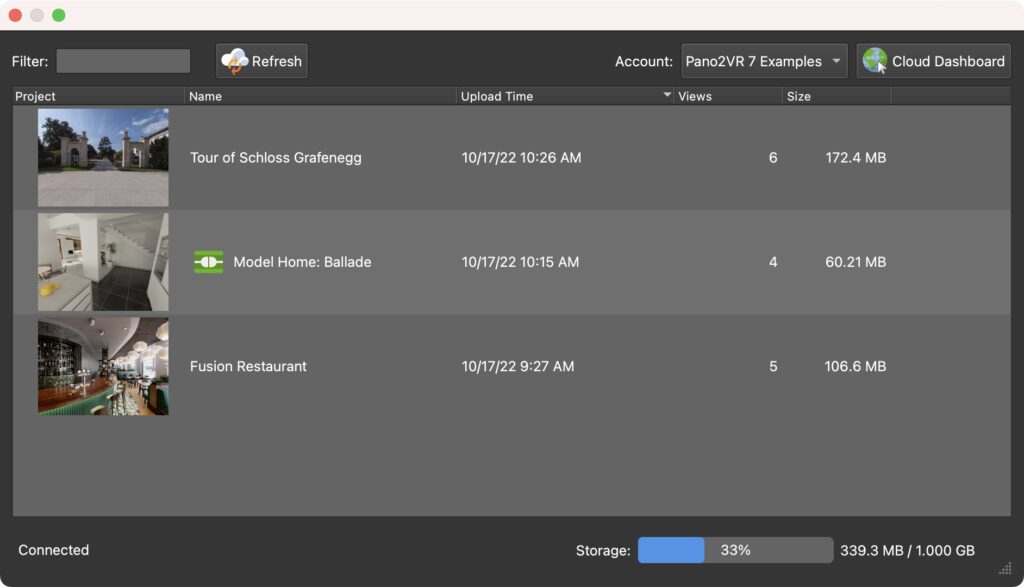 Use the Cloud Browser to open the Cloud Dashboard.
The Cloud Dashboard mirrors your Cloud Browser. You can view and share all your uploaded projects and check each project's stats, but it's here that you can limit access to the project and add it to a public portfolio. Not only that, there is a detailed view of a project's traffic and a way to manage your subscription.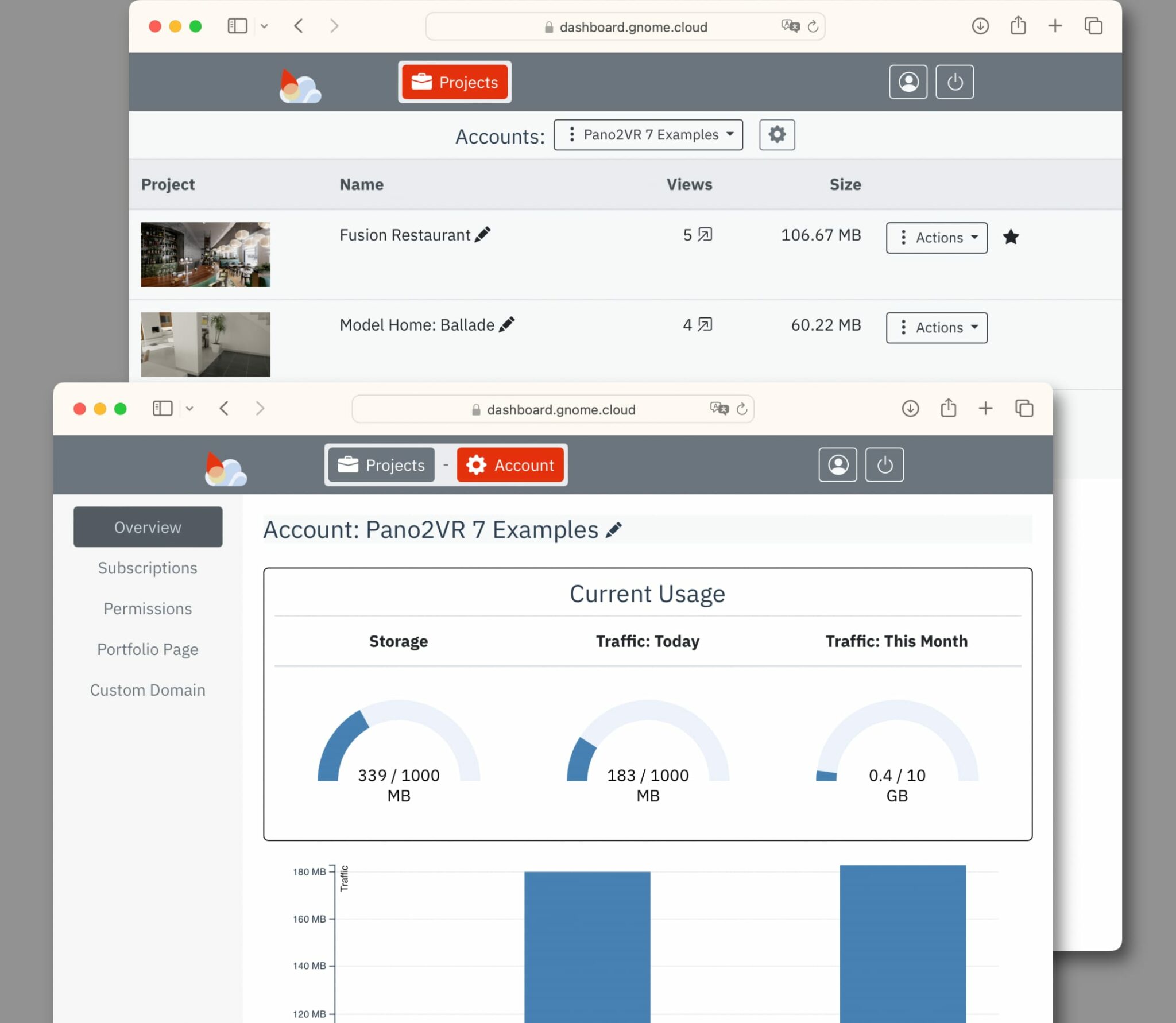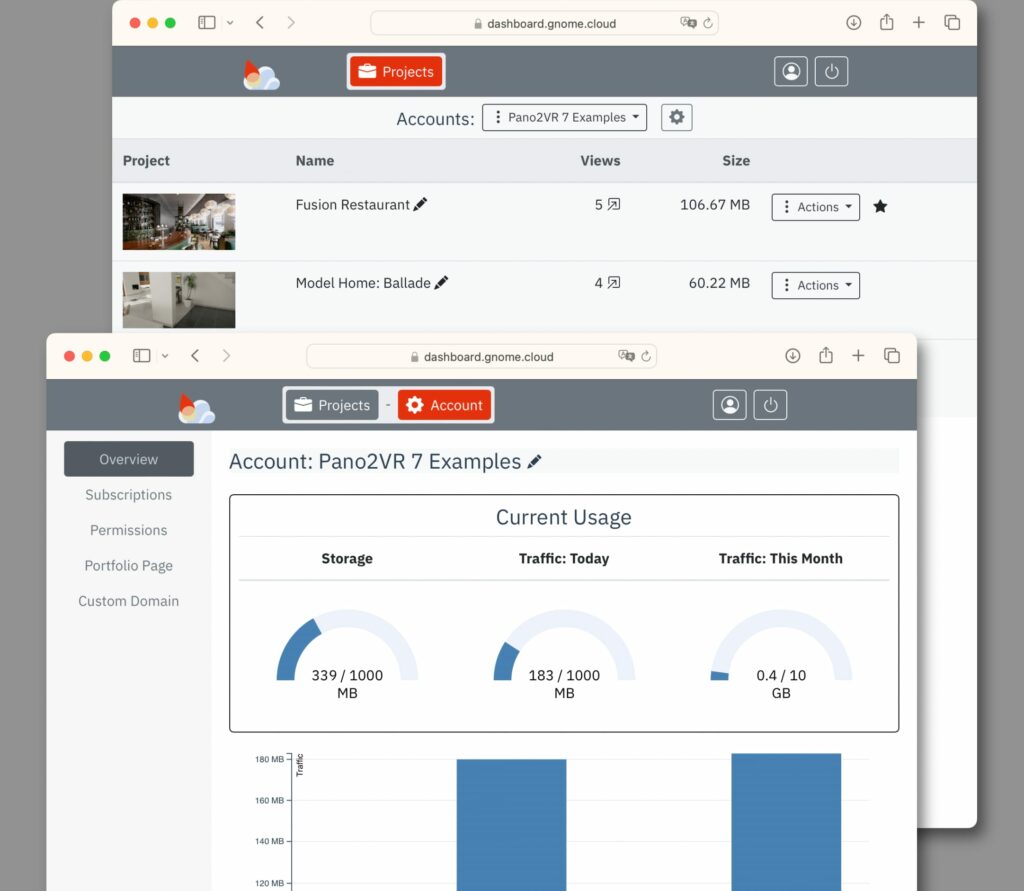 The Gnome Hosting Service is a subscription service. But don't moan and complain yet. We're giving everyone with a version 7 license a free trial of 90 days of our Small subscription tier:
| | | |
| --- | --- | --- |
| 1 GB Storage | 10 GB Storage | 20 GB Storage |
| 10 GB/day | 50 GB/day | 200 GB/day |
| 100 GB/month | 500 GB/month | 2000 GB/month |
| €12.00/month | €60.00/month | €240.00/month |
Beta 5 Features and Fixes
This release includes new features and a ton of fixes. Below are the highlights; head over to the change log for the full list.
Changes
Start Autoplay Media and Sounds Permitted
Some browsers (if not all) may require user action to start the sound, especially on mobile devices, which require using buttons to start the sound. This is a common headache for anyone wishing to present their project with sounds.
To help, we've added a splash screen to each of the built-in skins that require the visitor to interact with the project by choosing Sounds On or Sounds Off. Sounds On will trigger the new action, Start Autoplay Media. Sounds Off will trigger the Mute action. The splash screens use the new Sounds Permitted logic block trigger that tests the browser if autoplay is permissible. Learn more.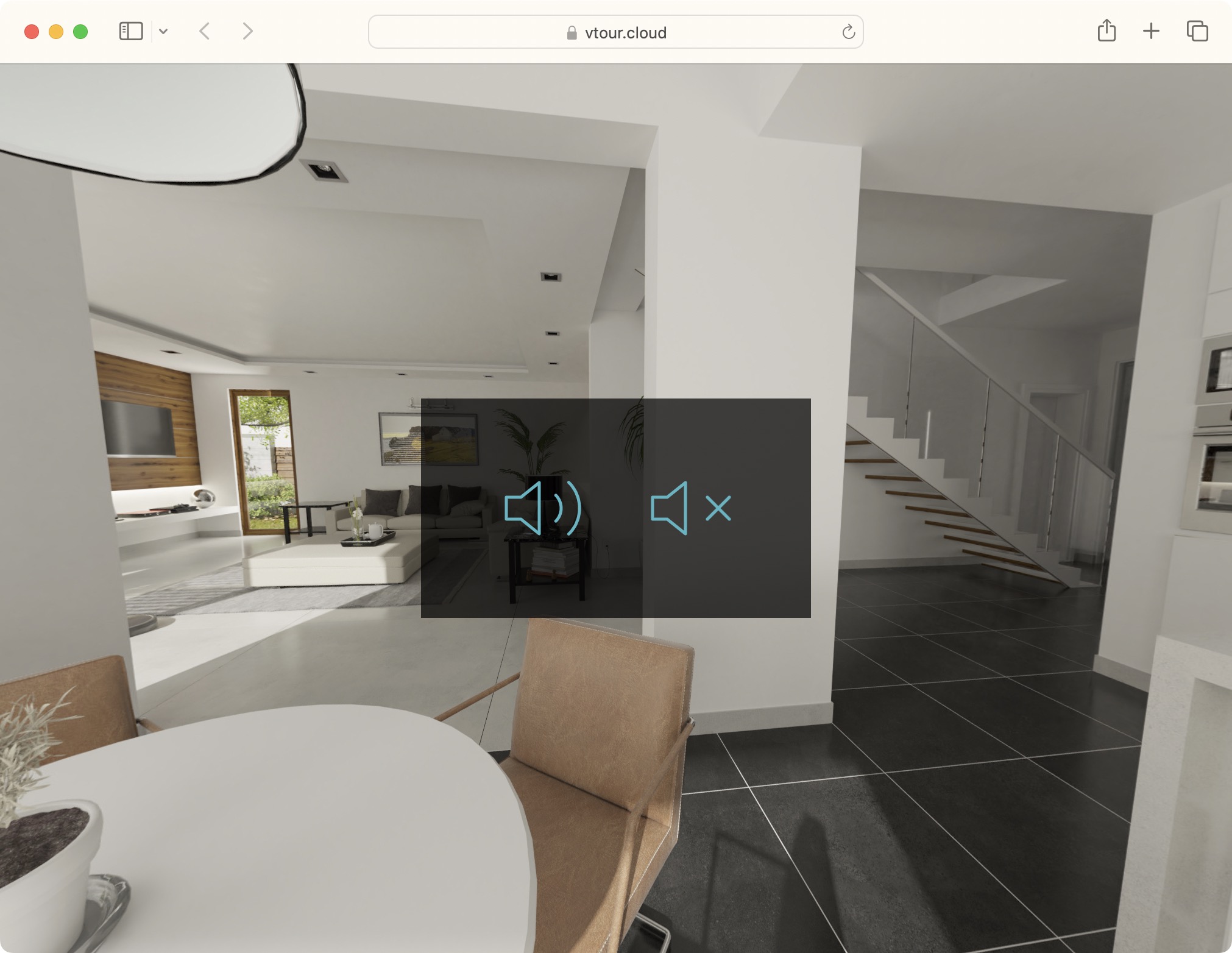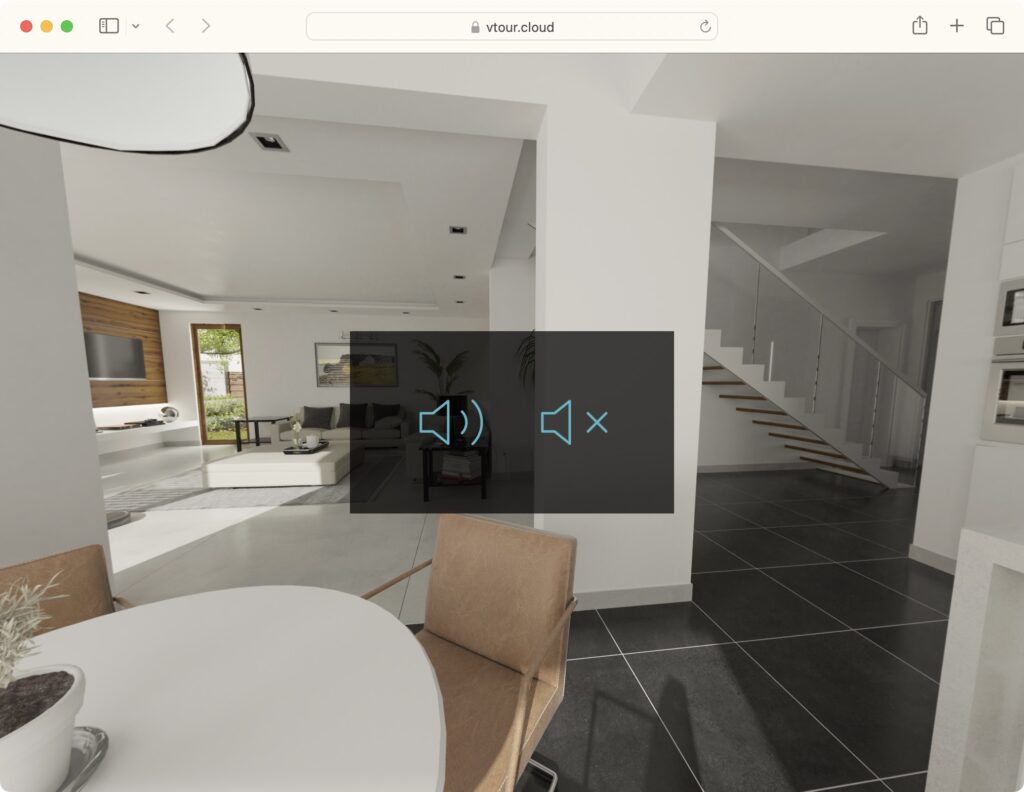 Additive Mode
Some Logic Blocks now have two modes: Additive and Absolute. The Absolute Mode is the mode you're familiar with and know. You have many expressions that each specify a value for the element's attribute. Pano2VR reads them from the top of the list down to the bottom. The first true expression will be used. With Additive Mode, every expression will be evaluated, and if true, its value will be added to or subtracted from the element's default value. The sigma symbol is used to indicate Additive mode.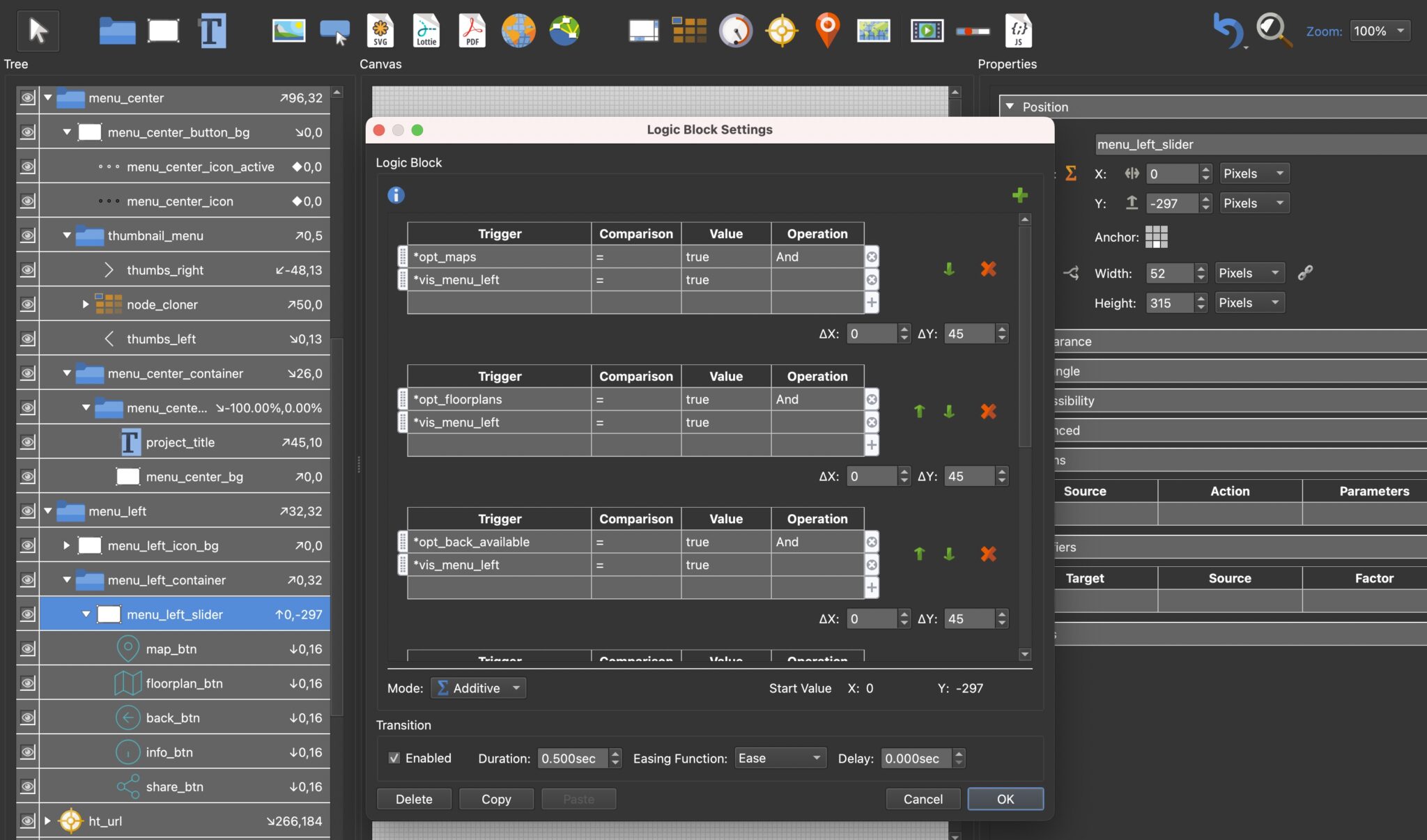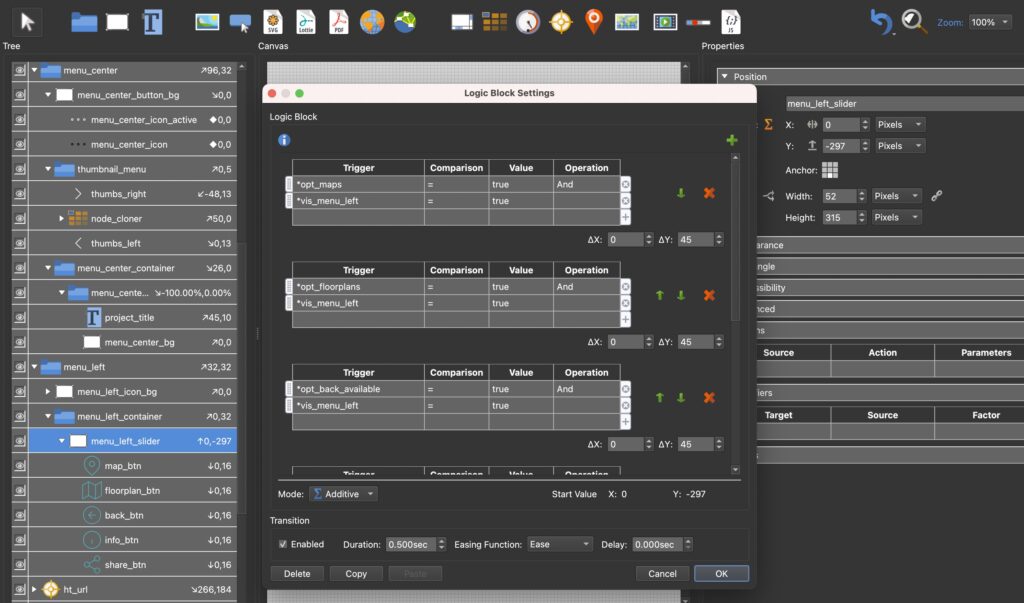 Features
Upload to Gnome Cloud (of course!)
Additive mode for Logic Blocks
Notes section in skin
Fullscreen button added to popped-out panels
Action to enable autostart media
QR Code added to Integrated Web Server
New Placeholder that detects the Start panorama
Media files are now added to translation files (background sounds, pinned elements, PDFs, URLs, etc.)
A new logic block trigger that detects the number of point hotspots in a panorama
Fixes
Pinned images now display in WebXR
Support Package is now grabbing custom point hotspot images
GIFs can now be added to the Icons portion of the Components Toolbox
Active area for image hotspots popups for projects embedded in WordPress is back where it should be…over the image
URL Point Hotspots no longer open two HTML pages on iOS
Zoom to pointer is zooming at the pointer's location again
Numerous fixes for the built-in skins
Using an apostrophe in an image's Alternative Text no longer crashes the output
The Min FoV setting no longer hides for flat images
Menus in VR are showing again
To update, go to Help > Check for Updates in Pano2VR 7. Or download the update directly and install it manually.
Again, thank you to everyone using the beta and sending your feedback!
★ Pano2VR 7 is still in beta but is available to purchase. If you'd like to buy a license for version 7, log in to your account to see what options are available. Please note that if you purchased Pano2VR 6 pro after January 26th, 2022, you will receive a license for version 7 with your purchase. If you bought a license before January 26th, 2022, you will have to pay a small upgrade fee for the version 7 license.