Today we released another beta version of 6.1 that is chock full of features like native stereo support and an importer for Panotour Pro projects. At the IVRPA conference in Belfast, we already gave a sneak peek. Since then we've added even more features, and below you'll find the full list along with issues we've fixed.
Custom Hotspot Images
You could always have custom hotspot images, but they needed a hotspot template in the skin. We added now an easy solution to create individual images per hotspot. For any point hotspot, add the image in the hotspot properties. And then you can resize the image or choose to have it 3D distorted without creating or editing a skin.
Convert Patch to Point Hotspot
In the previous beta, we added a feature that converted a patch to a pinned video and image. Converting the patch to a pinned video made the workflow for embedded videos much easier. With this beta, we've added the ability to convert the patch to a custom image for a point hotspot. This will make the workflow for 3D distorted hotspot images also easier with fewer steps involved. 3D distorted hotspots images allow us to create perfectly aligned roll-over effects in the panoramas and Hopki explains in the tutorial below how to do this.
Exposed Color in Skin
To make the workflow friendlier you can now change the colors of the built-in skins using the Edit Skin Configuration button. This lets you easily match the colors of your website without opening the Skin Editor.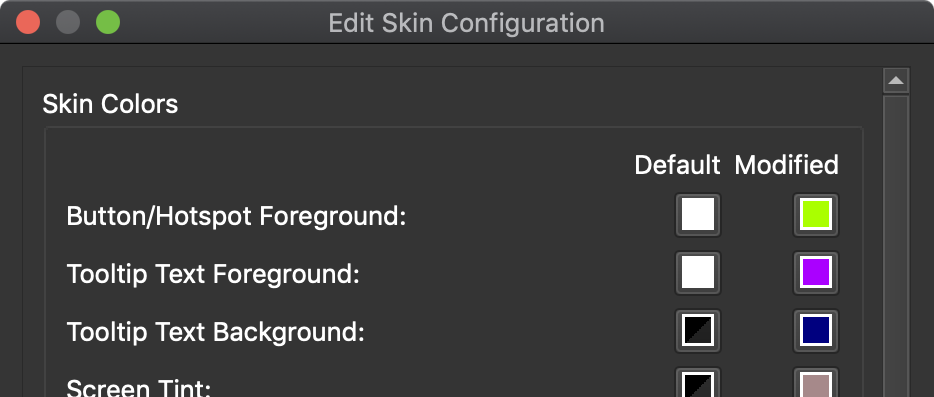 Panotour Pro Import
We've gotten a lot of Panotour Pro users since Kolor closed and wanted to make it easier for them to covert their projects to Pano2VR. With this release, we've added the ability to import Panotour projects. Most features like hotspots, categories, floor plans, and lens flares will be converted, but the skin will need to be rebuilt.
Hopki has a great tutorial showing exactly how this works and even rebuilds Katherine Gooding's skin (Thanks Katherine for the project!).
Stereo Panoramas
Stereo Panoramas are now natively supported. All you need to do is drop in your stereo panoramic image, and you're good to go. You can even mix stereo and regular panoramas. If you're working on a tour, you can also make use of the new distance field for hotspots to bring them closer to the viewer. We also updated the patch tool to support stereo panoramas as well.
Accordion Menu Component
Earlier, we introduced some features in the skin editor that would allow you to create menus with categories. With this beta, we added a few more features that will enable an accordion menu. You'll find the accordion menu component in the Components Toolbox.
More Features
Integrated web server now includes a secure option (

HTTPS

)
Calculate and show the distance between nodes using placeholders
Tags can now have symbols as a way to visually see the tags in the Tour Browser
Exclude nodes from autorotation
Raw

CSS

: You can mix units for position and size of skin elements
New skin actions: Set Size and Change Size
New logic block trigger: Cloner Index
New skin actions for adding and removing skin elements
Cloners can now change the size automatically
Fixes
YouTube videos can now go fullscreen in skin editor video element
Floor plans will now respond to a logic block used to show them
Scroll bars no longer cover the cloner element on mobile
If the input image doesn't change, Pano2VR will no longer regenerate cube faces for single resolution outputs
Changes
Pan/Tilt/FoV actions are now grouped under Panorama Movement
Faster loading of projects
Significant improvements to the Street View upload
To update Pano2VR, go to Help in the menu bar and choose Check for Updates. Or download directly from our website and install.