A while back, a project by Dennis Van Duijn caught our attention. It was a tour of Erasmus University College in Rotterdam, Netherlands. Not only is this an informative tour, but it's fun to check each node because each scene expresses something different, has easter eggs, and has an excellent skin design. Even for someone not canvassing colleges, this tour is a treat to explore.
Of course, this isn't Dennis's only tour. There are many tours on okijk.nl and all of them of excellent quality. Take the time to visit the site and be prepared to be inspired!
Erasmus University College
Start with a Quiz
The tour starts with a splash page, urging potential students to answer quiz questions in each room. It's a great way to keep interest and encourage exploration.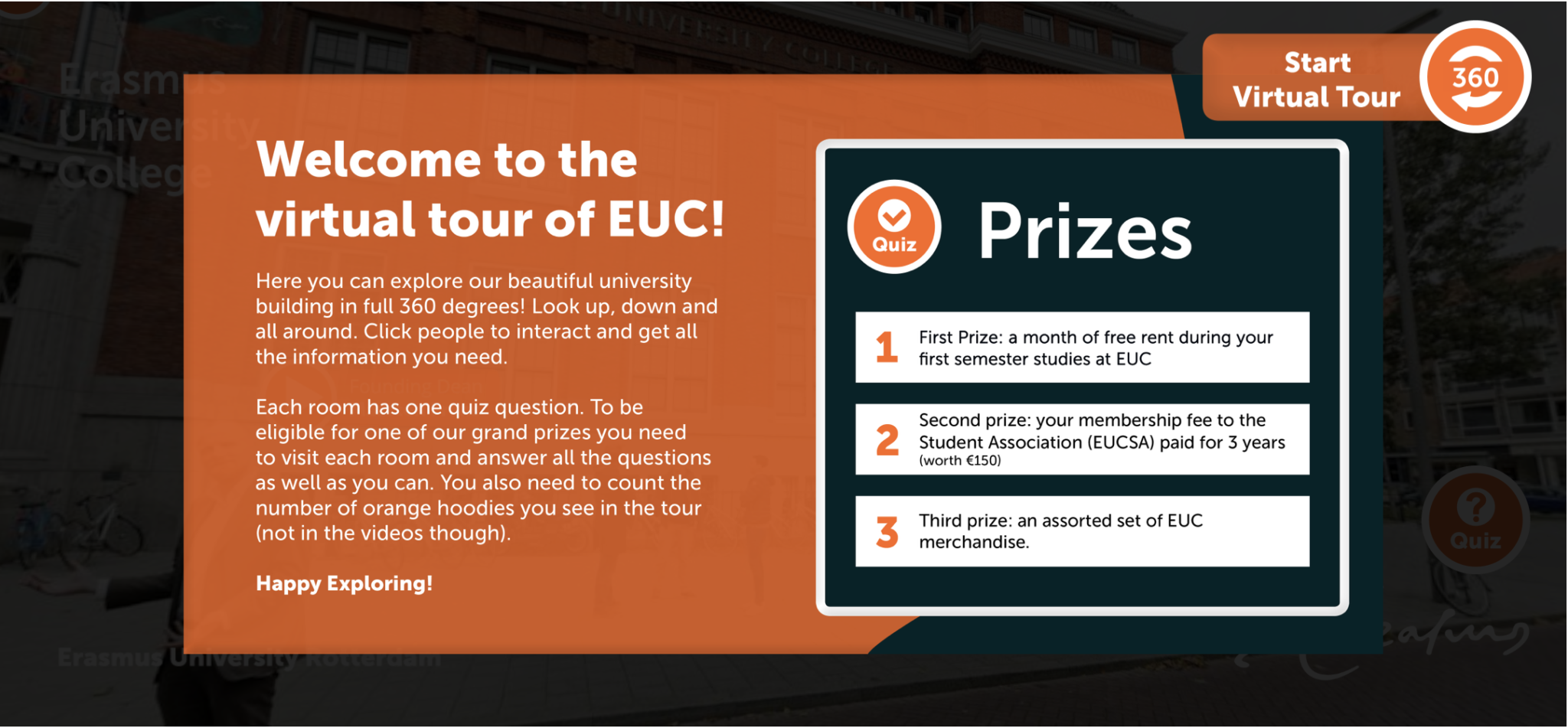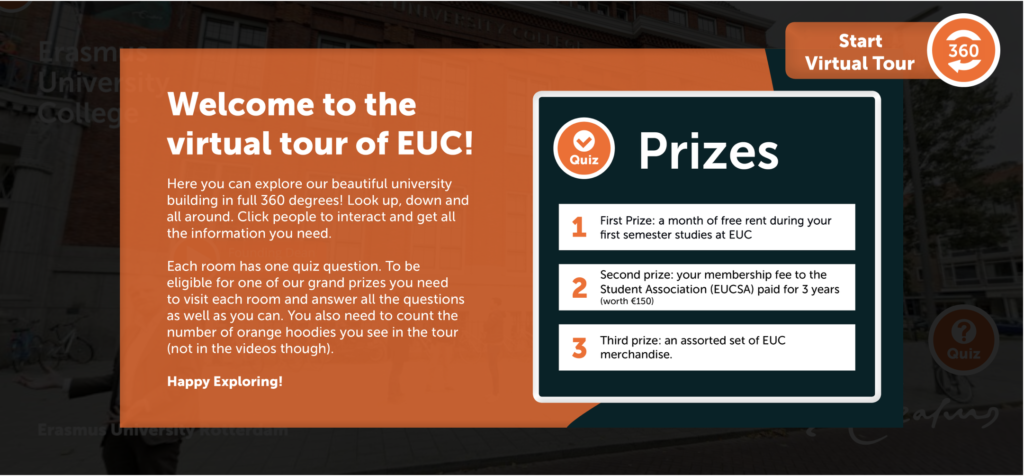 Pop-up Videos and Images
One can start the tour by watching the Dean in a video as he introduces the college. Before you enter the college doors, you can also flip through images of the university building in an image gallery.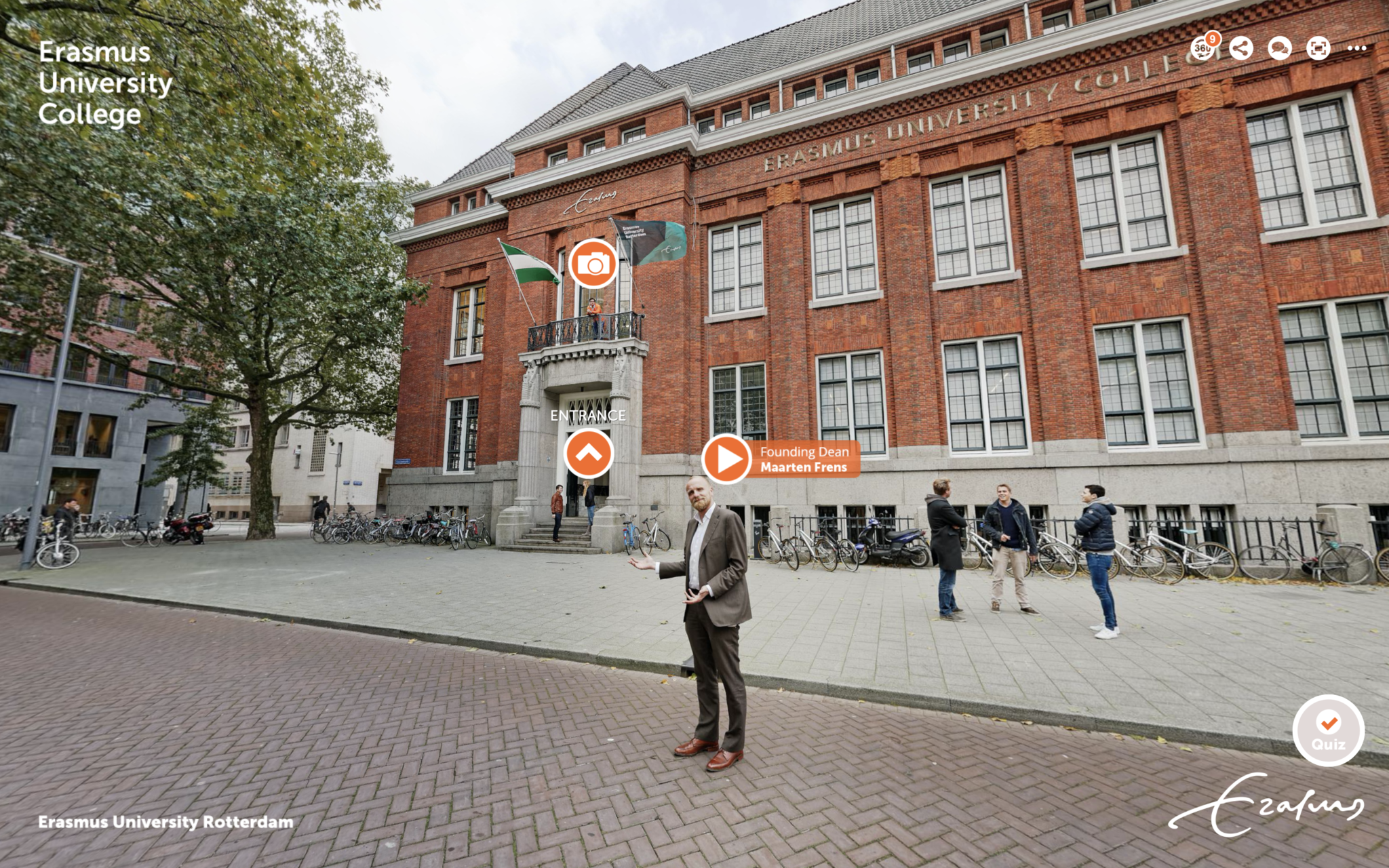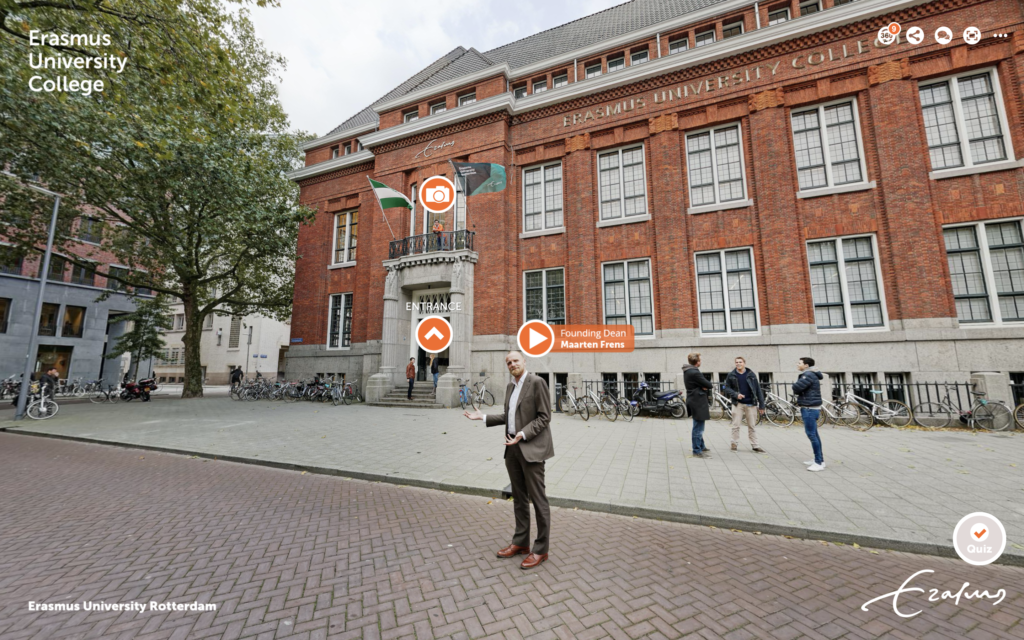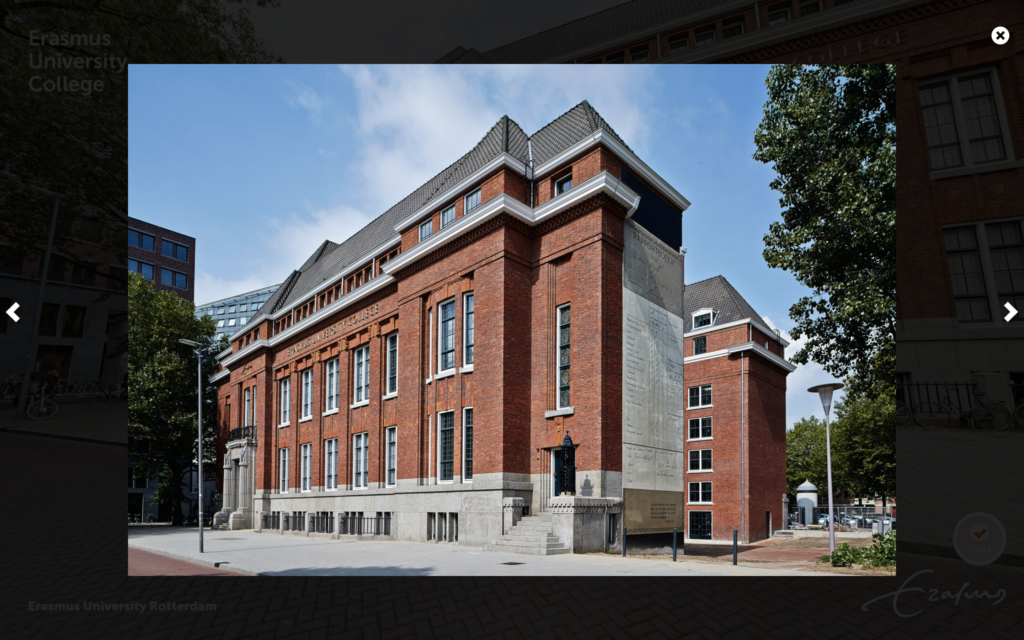 Audio Introductions
As you move through the tour, you'll find that you will "meet" students and staff. Some introductions are audio-only, some are information cards, and some have both.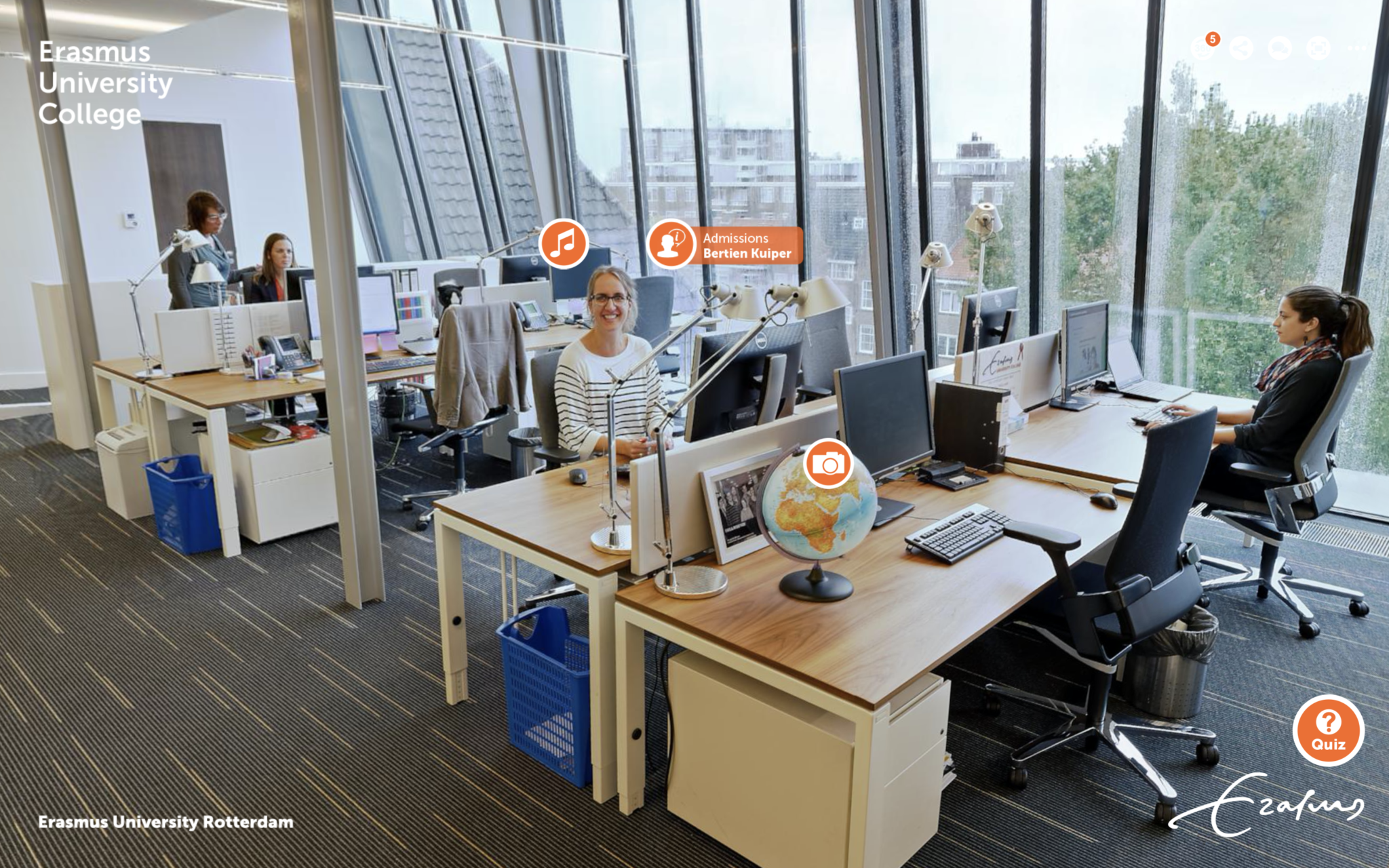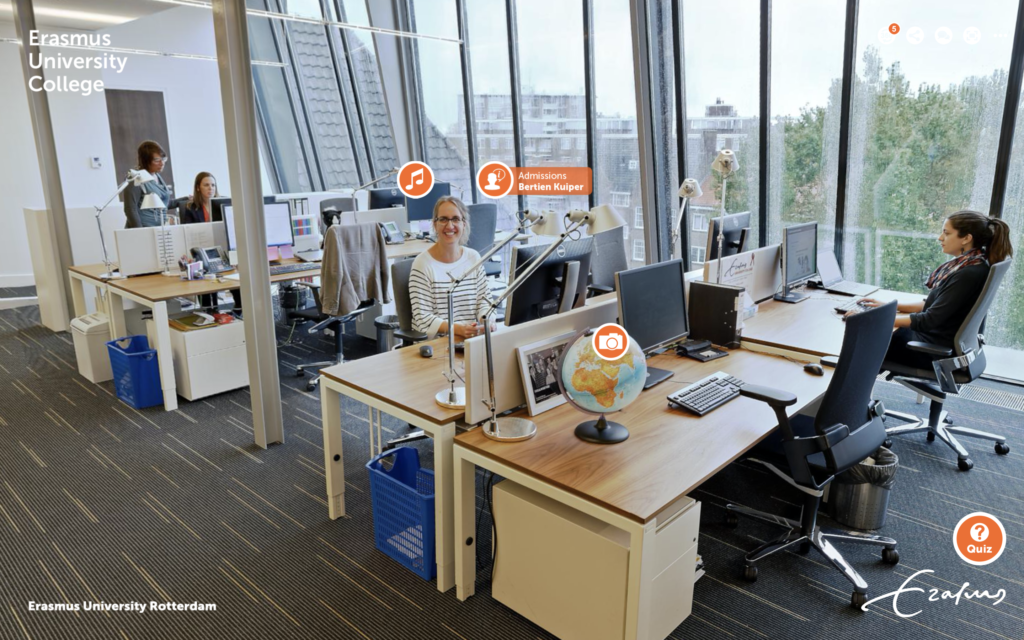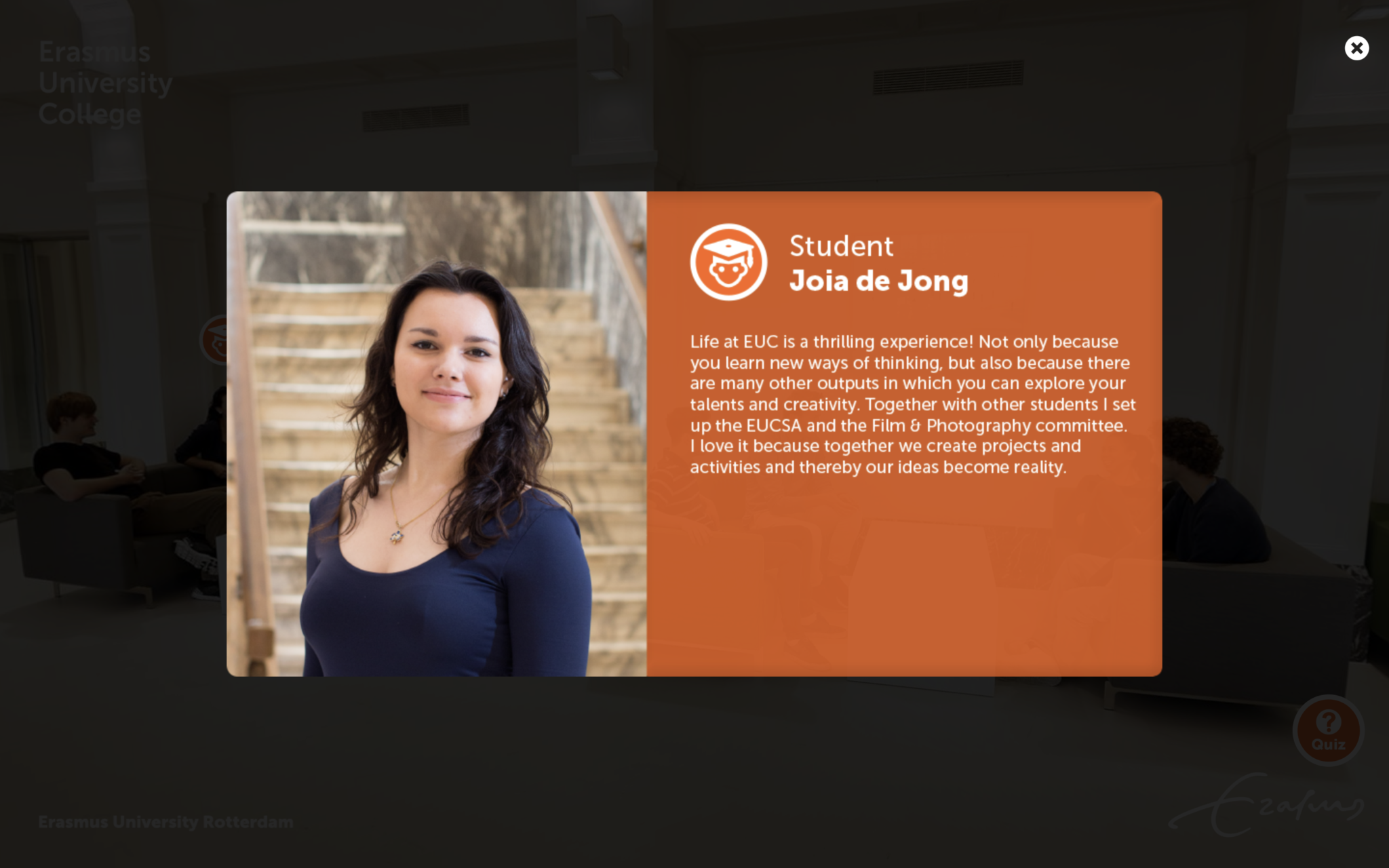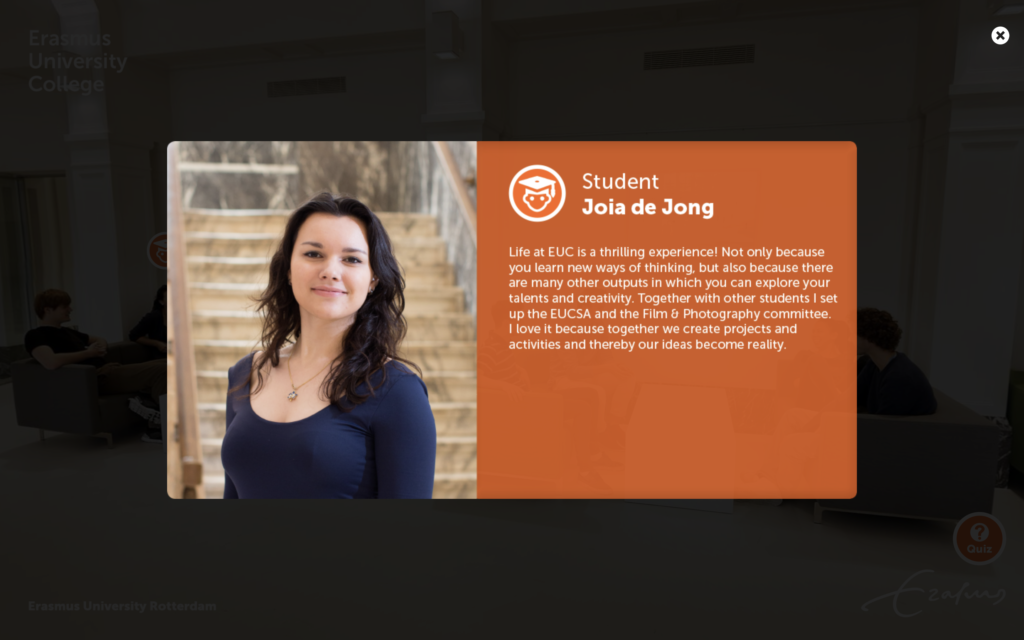 Visits
In addition to the quiz, pop-ups, and other interactive elements, there's one small feature of the tour that can be very useful for the user. There is a graphic in the top right corner that indicates how many nodes are left to visit. In the screenshot below, you can see that I have yet 4 nodes to visit which means, I still have four questions to answer for the quiz. Clicking on the button will show all the nodes and if they've been visited or not.
Desuite
Another project we enjoyed was the mini-tour called "Desuite." In this tour, not only are the graphics clean and minimal, but there are also a lot of features to show off!
Daytime and Nighttime
Dennis does a great job of showing the property in daylight and at nighttime using simple buttons to switch between the two panoramas.
3D Distorted Hotspot Images
Using a patch image converted to a point hotspot, Dennis can show off the inside of the closets, which is a great example of use.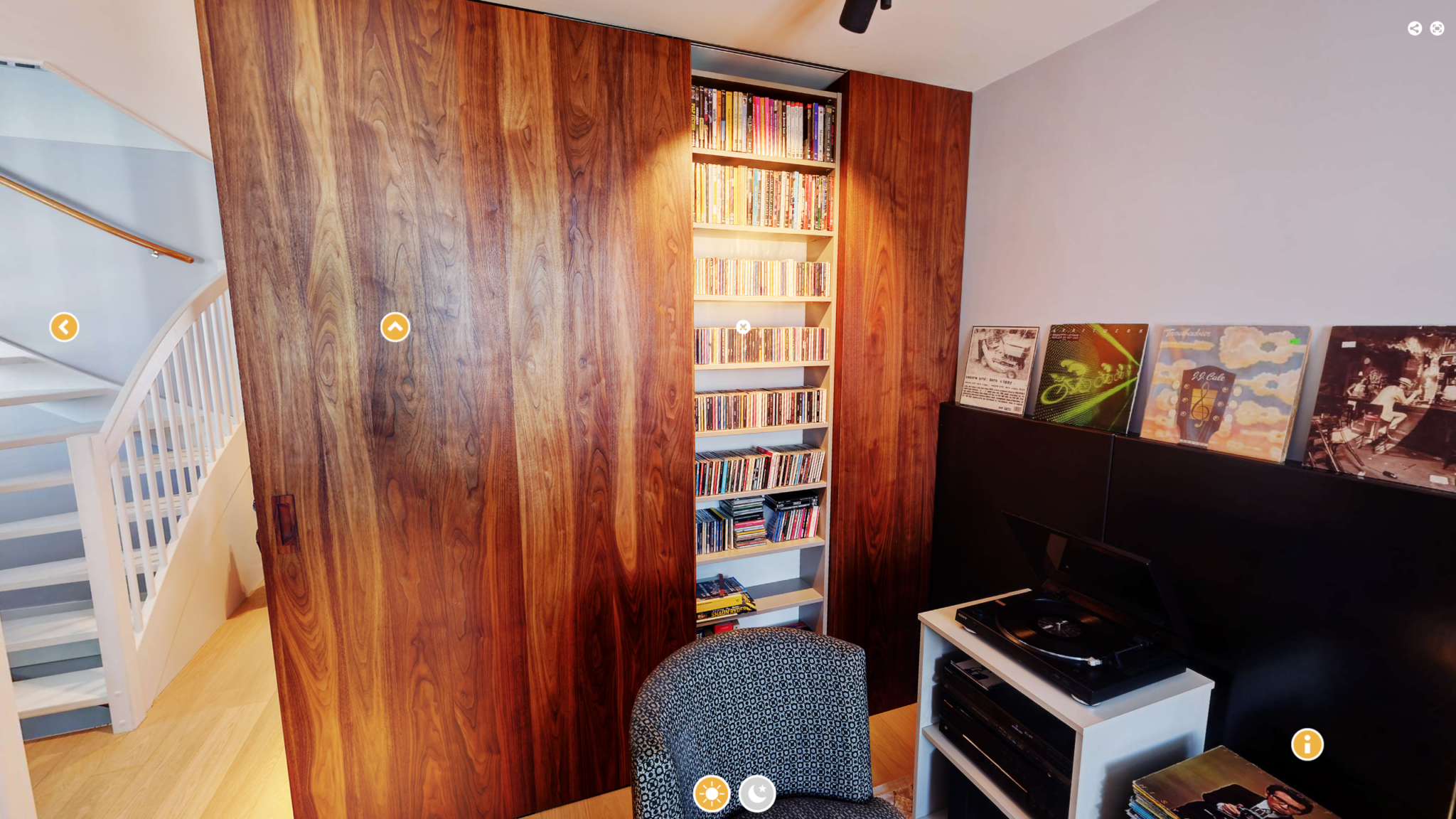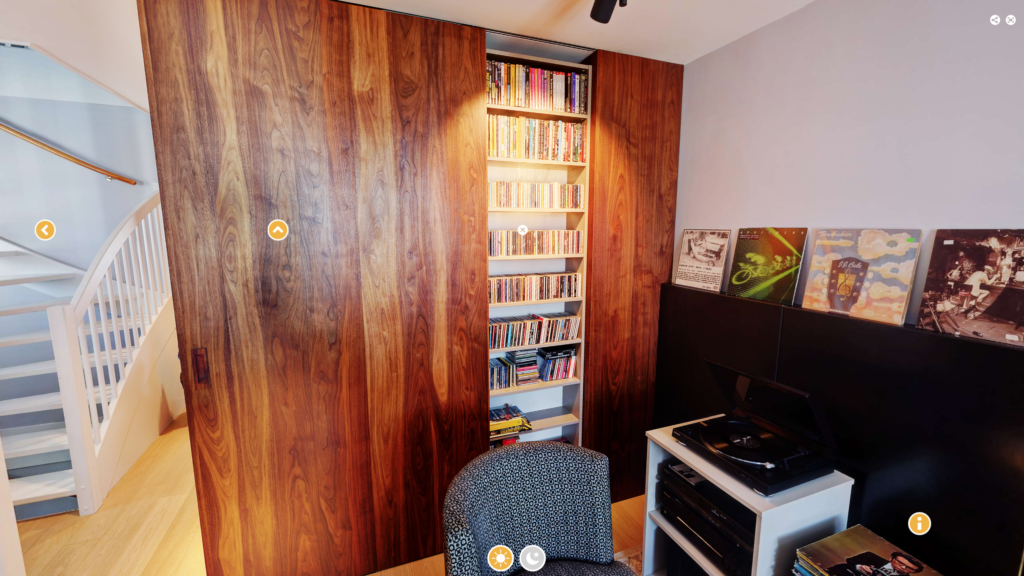 Pinned video
Black or blank screens are a perfect opportunity to pin video! Click on the computer, and the panorama will zoom in and begin to play a video.
Using videos and images to add more information
Sometimes a scene or node requires more information than the panoarama itself. This is where pop-up videos and images galleries can be used. Here, Dennis uses images and videos to show room details.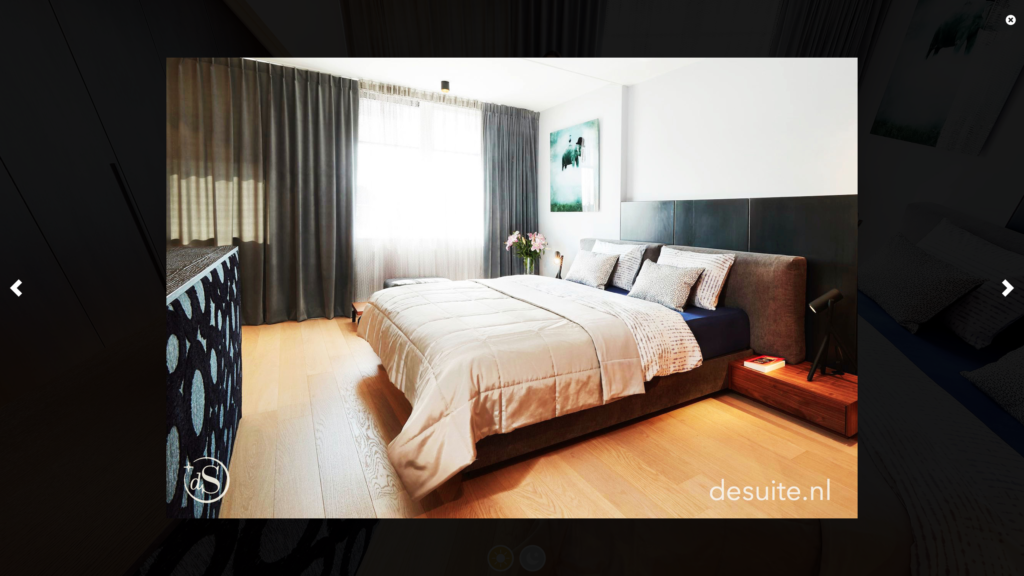 Animated text boxes
When designing skins, think about how effective each element can be. For instance, the information text boxes in this tour fold open and then fold closed. It's these seemingly minor details that add a lot of interest to the tour.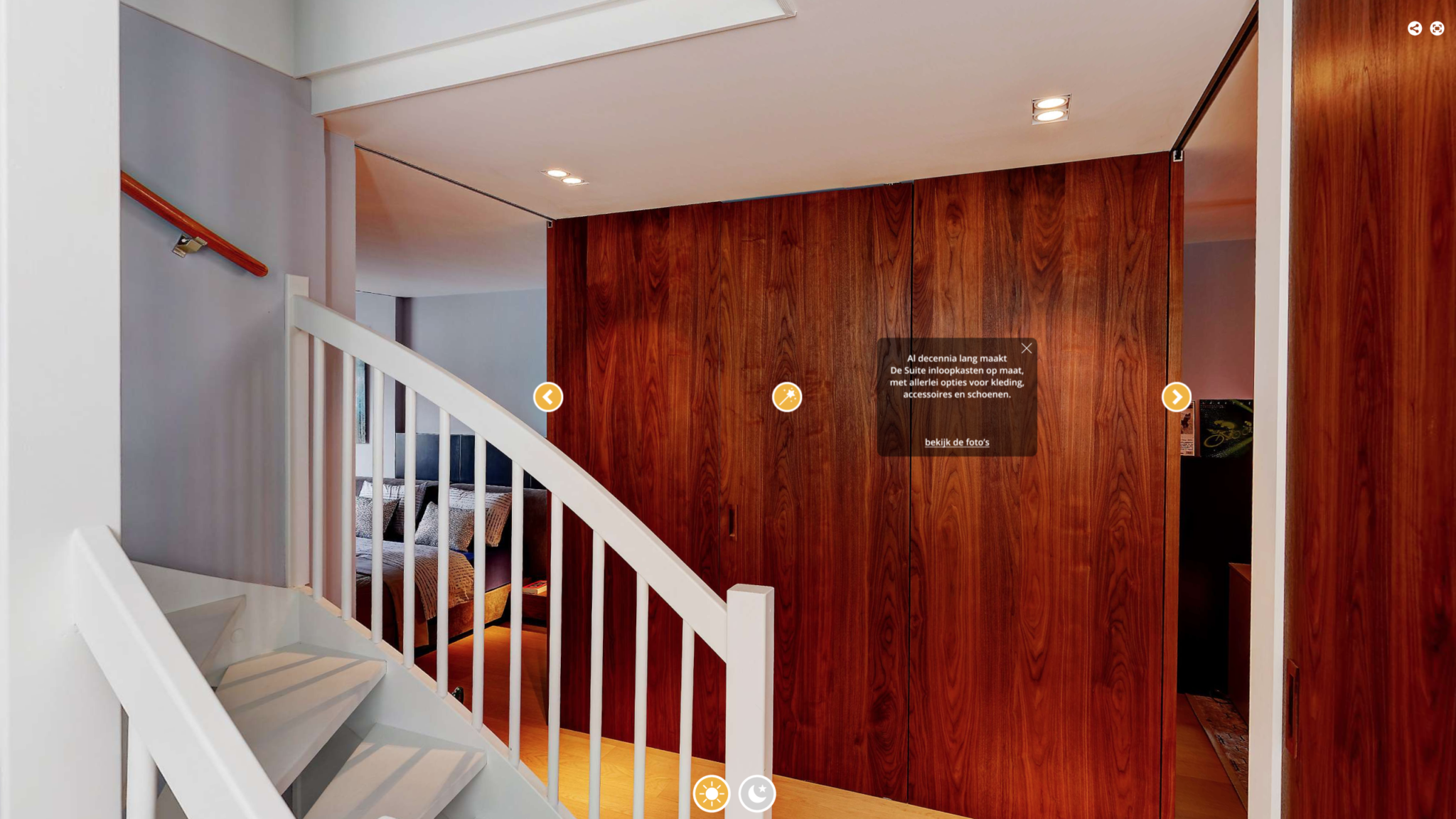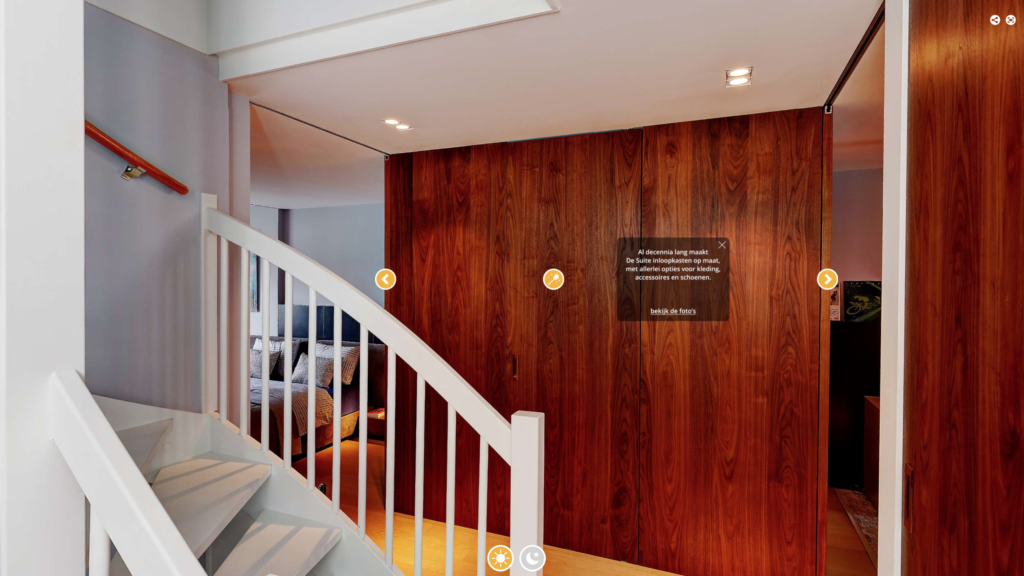 (Dennis's company, "O kijk" translates to Oh, look! in English.)
Be sure to check out Dennis's complete work and be inspired with his skin designs and unique way of guiding you through the tours.