How to create point hotspots for Object2VR
Legacy document. Point hotspots have been added to the hotspot editor in version 3.0.
---
Object2VR does not have Point Hotspots so here is a little trick that makes it look as if though it does.
The download contains all the files necessary to build this Object2VR project. Please download the files then follow the steps here to see how to add hotspots to your own projects.
Project Files for download Media:Object2vr Hotspots.zip
Step 1:
Produce two sets of images, one with the hotspot images and one without. In this example only a few images required hotspot images. I have renamed the images with hotspot images on with 00x.
Step 2:
Open the light table and set the Columns and States. For this project there are 12 Columns and 2 States. The first state, state 0 uses images 01.jpg to 12.jpg
The second state, state 1 uses 001.jpg to 003.jpg and 011.jpg to 012.jpg. I have reused the other images as they did not require any hotspots.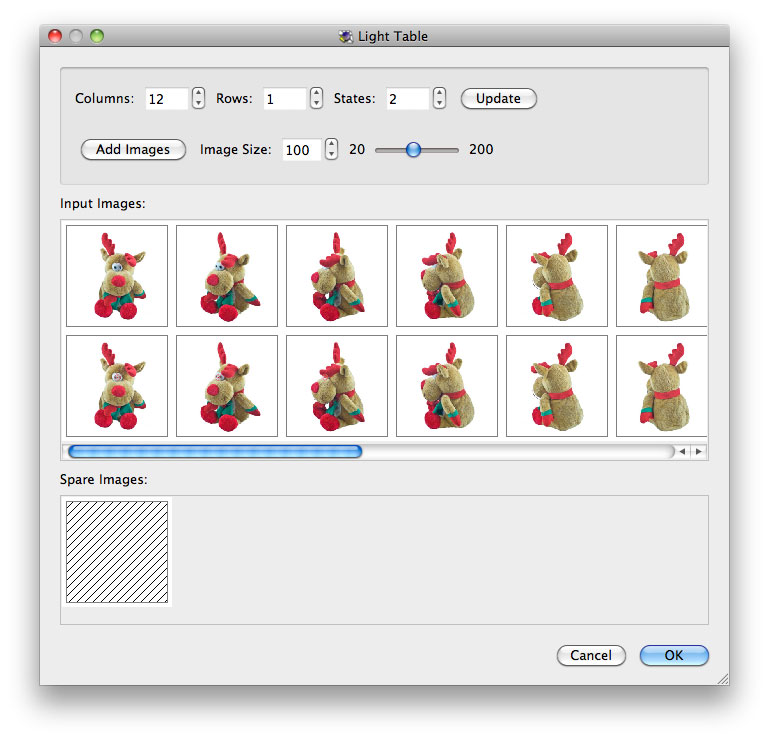 Step 3:
Open the Hotspot editor and add the area hotspots to the images with the hotspot images.
Make sure that the correct ID is used for the hotspot you want to open the image with. If you are going to open more than one image you will need to open more hotspot ID's.
ID Hotspot 1 will open one image, ID Hotspot 2 would open another.

Step 4:
Add your image/picture to the skin editor, set it to hide or alpha 0 depending if you want it to appear or fade in and out.
Add actions to the image to toggle either Visibility or Alpha. This project is using Alpha to fade the image so there is an toggle alpha 1 action.
You also need to set the Hotspot Proxy ID to match the area hotspot you defined in the hotspot editor. Again in this project as there is only one image it will be 1.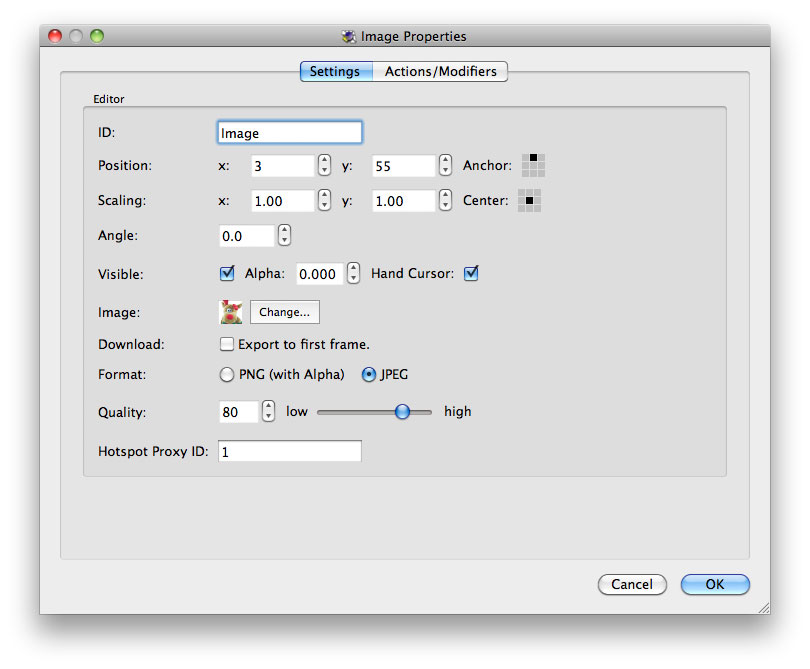 Step 5:
To switch between the view states you will need to have a button per state.
The buttons are stacked, "toggle hotspots button state 0" is visible while "toggle hotspots button state 1" is hidden. As you click state 0, it will switch to state 1 and hide it's self. It will also show the state 1 button which has the actions to switch back to state 0.