Transformation Settings (Pano2VR)
This is the documentation for Pano2VR 4. You can find the new documentation for Pano2VR 5
here
.
Pano2VR allows you to create a thumbnail image from your panoramic image and to remap your panoramic image.
To do this, choose Transformation from the Output section and click Add. This will open the parameters sheet for creating thumbnails and remapping of images.
Settings Tab
[
edit
]
Settings
[
edit
]
Type: Begin your thumbnail creation or image remapping by first choosing which shape or type of image you want. Go here to see what each type looks like.
Image Size: Define the size of your image expressed in pixels. The first box is the length and depending on which type of image you chose, the width will be automatically calculated for you.
Background Color: The default is transparent but you can choose to add an opaque or semi opaque background color to the image.
Transformation: Check this option to avoid oversampling.
Preview
[
edit
]
In the preview section, you can choose to use the default view set in the viewing parameters section. Or, when this option is disabled, you can create a different preview view by manipulating the various sliders or manually entering in the values.
TIP: Right click the preview image to change it's size. Options of Small, Medium and Large can be selected; the default is Medium.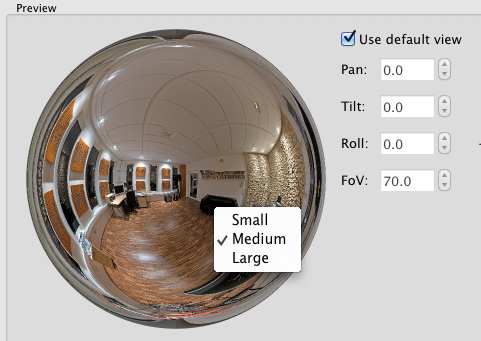 Format: Choose to output your image to PNG, JPG, TIFF, OpenEXR or Radiance HDR. Only PNG, TIFF and OpenEXR support transparency (alpha channel).
Image Quality: When the output format is JPEG you can choose the quality of the outputted image. 90 is set as the default and can be changed.
Output File: Choose the file name and destination of the outputted image.
HTML Tab
[
edit
]
Here you can create an HTML template.
There are two default templates to choose from:
normal.ggt: customize the text and background colors and enable a user data table.
Spi-V.ggt: This one creates an HTML and XML file for the Spi-V engine by fieldOfView.
To use the Spi-V engine locally you must copy the files to a subdirectory called, dswmedia. Info
See also
[
edit
]
Image Transformation (Pano2VR)
Categories