Tour Browser (Pano2VR)
The Tour Browser (available in Pano2VR Pro), holds and organizes all the panoramas in a tour. Each panorama is represented by a thumbnail image.

Learn how to use the Tour Browser.

The tour browser can be positioned or docked to any edge of the main project window by doing any of the following:
Click and drag the header and move to any edge. it will snap in place
From the menu bar, choose Tour > Dock Tour Browser
To undock the browser, just drag and drop it outside of the program window.
The Tour Browser Window
[
edit
]
Filter: If tags have been added to the user data, they will show up here, in the menu. Tags can be used to filter the panoramas for easier viewing and organization.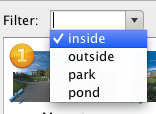 Thumbnail size: Use this slider to increase or decrease the size of the thumbnails in the browser.


The Icons
[
edit
]
| | |
| --- | --- |
| | This icon indicates the starting panorama. |
| | This icon indicates that the panorama is not linked to any panoramas. To link the panorama, add hotspots. |
| | This icon indicates that location data has been added to the panorama. |
| | This image is a placeholder or an "empty panorama." It appears in the tour browser at first launch and when when adding images via the Menu (Tour > Add Pano). Learn more on how to add images into the tour browser. |
Tour Menu
[
edit
]
Once the tour browser is opened, a new menu item will appear in the menu bar, called Tour.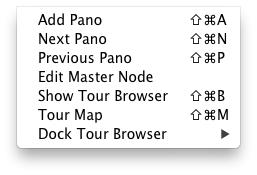 Add Pano: adds a panorama to the tour
Previous Pano: go to the previous panorama
Next Pano: go to the next panorama
Edit Master Node: choose this to edit the master node
Show Tour Browser: choose this to show the tour browser window again
Tour Map: view or close the tour map
Dock Tour Browser: choose where to dock the browser
Right-click context Menu
[
edit
]

Right-click on any image in the tour browser to bring up this menu:
Set as Start Panorama: This will set the selected panorama as the starting panorama in the tour series.
Remove Panorama from Tour: This will remove the image and it's settings from the tour.
Image Tooltip
[
edit
]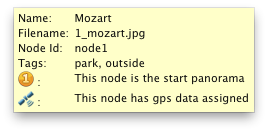 This tooltip will appear when the mouse hovers over an image in the Tour Browser. It will give you the following information:
Name: The name of the tour image which is added as the Title in User Data.
Filename: The original filename of the image.
Node ID: This is the Internal Node ID number.
Tags: This will show all the tags that have been assigned to the selected image.
: Indicates the starting panorama.
: Indicates whether or not GPS data has been added to the image.
See Also
[
edit
]
Building a Tour (Pano2VR)
Direct Node Access and Show Internal Node ID
Editing the Master Node

Categories