Video Panorama Tutorial (Pano2VR)
Video loading...
Step 1: Convert an Image Sequence
[
edit
]
Before starting, make sure the video panorama is converted into an image sequence. This can easily be done by opening the video in QuickTime Pro 7 and choosing Export > Movie to Image Sequence.
Once you have the image sequence, convert it to the 3x2 video format. This arranges the cube faces in a 3 column x 2 row format: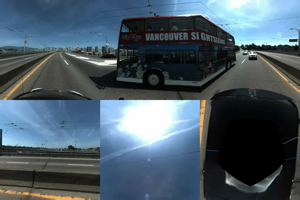 To convert the images to a 3x2 format follow these steps:
Open an empty Pano2VR project window.
Add a Transformation Output format.

In the settings, choose 3x2 (video) from the format list.

Define the image size. The image size should be divisible by 16 and equate to each cube face for an equal number of pixels wide. For example, 512*3; 960*3.
NOTE: The maximum size that Flash can play back is 2880x1920. However, this can be ignored if set in the preferences/settings.
Deselect Use Default View. This is a safety precaution. If you accidently make changes to the default view in the viewing parameters section, the images will be uneven and result in outputting hundreds of unusable files.
Choose an output format. If you decide to use JPEG, set the image quality slider to a high setting. This will ensure better image quality after being compressed.
Choose an output destination. It helps to create a new directory to hold all the images.
Next, batch process the images. Use either the batch processing window (Tools > Show Batch Processing Window) or create a droplet. If using the batch processing window, simply drag all the images to be converted into the window and then click, Run.
NOTE: Depending on the image size and image number, this process can take some time.
Once all have been processed, open a few and check to see if they are suitable.
Step 2: Convert the Images into a Video File
[
edit
]
Now that all the images that make up the video have been converted to a 3x2 format, they can be converted into a video stream:
Using QuickTime Pro 7, convert the images to a video stream by choosing, File > Open Image Sequence. Select the first image of the sequence, then choose a frame rate. Once the conversion is done, you should have a video in a 3x2 format.

Give the video file a name and save it to the desktop (or dedicated directory).
The video file you just created now needs to be converted into a Flash Video file (FLV) since this will be the content for which a SWF file will play.
Encode the file.
Step 3: Create the SWF
[
edit
]
The final step is to create a SWF that will act as the host or player in order to play the content which is the Flash video file you just created.
To create the SWF:
Back in Pano2VR, import a non-transformed image (an image that has not been converted to the 3x2 format) from the image sequence.
Go to the viewing parameters section and modify the viewing limits so the black hole created by the tripod/stand is not visible during viewing. Do this by going to the Viewing limits section and selecting Show Limits. Tilt the image down so the black hole is no longer visible and then click the Set button for the bottom limit.
Click OK. A dialog box will appear asking you if you would like to save the current settings as the default view. Choose No.
Choose Flash as the output format.
In the settings for the Flash output, choose the video controller in the skin section.
You can create a custom controller and skin if you wish.

Choose a name and location for the movie. It is recommended to save the output to the same directory or folder as the Flash video file.
Finally, in the HTML settings tab, enable the HTML file and choose the normal template.

If needed, scroll down and add the video file (FLV) you created earlier to the field labeled, Panorama Video File.

Click OK to output the SWF, HTML, and JS (Javascript) files to the same location as the Flash video file.
That's it!
See also
[
edit
]
QuickTime Pro 7
Pano2VR - Flash Output Settings
Batch Processing
Droplets

Categories